The use of the active and passive voice in English writing can be confusing. I know as a Bestselling Author now; it took me years to really get the hang of it.
The solution is to use an active or passive voice checker through third-party applications. These tools allow you to copy and paste your text, then automatically suggest repairs in your document.
Take a look at the best passive voice checkers and correctors for 2022. The tools will help you eradicate these writing weaknesses for free or through a paid subscription.
Best Passive Voice Detector Tools
ProWritingAid
Starts at $7.42 per month
25 Detailed Writing Reports
In-app Suggestions
Contextual Thesaurus
60/Year Plagiarism Checks
Offers a One-Time Fee of $399
Top Choice
Grammarly
Starts at $12 per month
Online Spelling, Grammar, and Punctuation Checker
Plagiarism Checker
Tone Detector
Style Guide
The Business Version is $15 Per Month
Ginger
Starts at $9.99 per month
Grammar, Style and Punctuation Checker
Read-aloud Feature
Paraphrasing Tool
Supports More Than 40 Languages
Offers a 7-Day Money-Back Guarantee
Grammarly Premium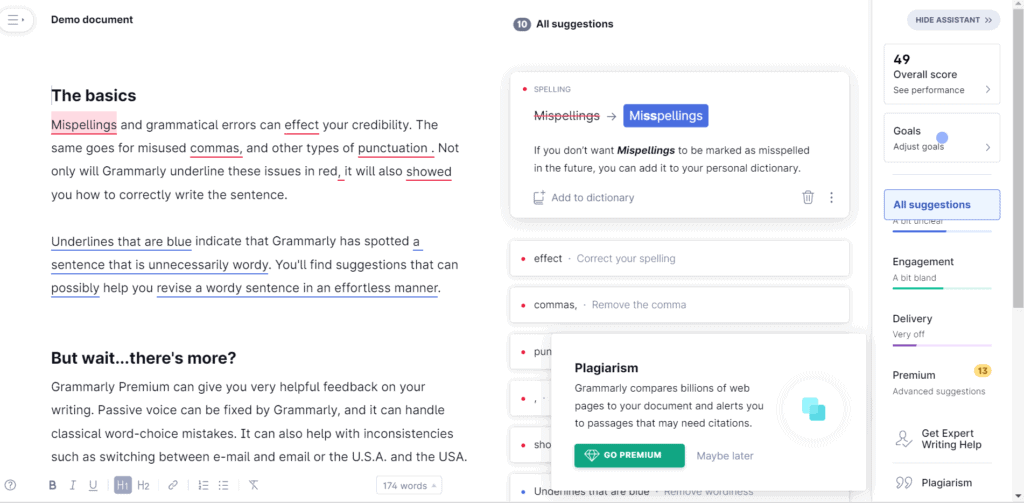 This is always my go-to choice! Grammarly Premium is one of the most popular grammar checkers that correct more than your passive voice issues. This editor offers detailed explanations for every grammar mistake you make, helping you become a better writer.
It's helped me immensely over the years, and I sing its praises to any writer who will listen. You don't just get a passive voice checker here; you get an all-in-one tool.
The all-in-one grammar checking program is a passive corrector that lets you know when sentences require active constructions. There are also instances when Grammarly Premium asks you to add a subject to your rewritten sentence to make it active.
Grammarly displays accuracy scores on the upper-right part of the web editor. These numbers indicate your grammar skills in terms of correctness, clarity, engagement, and delivery.
Aside from the detailed reports, Grammarly also has other bonus features like tone detection, a personal dictionary, and a thesaurus. It also offers unlimited plagiarism checks for Premium subscribers.
Expert writers, business owners, and students rely on Grammarly for its grammar reports. It's one of the best passive voice checkers you should try. However, at $12.00 per month, Grammarly may be more expensive than other online grammar tools.
ProWritingAid
ProWritingAid is a full-fledged writing tool that helps writers minimize passive voice usage. It's usually marketed for those who produce fiction writing and long-form writing. But ProWritingAid is also a blog editor with extra grammar tools.
I love ProWritingAid and continue to use it as a finishing tool for my work after I've used other programs. I find it drags down my computer's run time and just doesn't spot as much as, say, Grammarly. But it's still a fantastic tool for writers.
Regardless of your goals for content, the consistent grammar checker will help you perfect your written documents. One excellent feature of ProWritingAid is its ability to fix your writing style if it's in the English language. It can also provide an in-depth explanation for each error.
Informational content doesn't seem credible if it contains hidden verbs, emotional tells, and repeated sentence starts. Grammarly fixes your writing style and provides contextual spelling corrections for your bad writing habit.
The high-quality grammar checker features reports for cliches, redundancies, overused words, and sticky sentences. There's even a plagiarism checker to help you analyze the originality of your work.
Aside from checking grammar, ProWritingAid also analyzes your adherence to the house style guide. You can even create your own writing style by adding new words to your dictionary.
ProWritingAid offers a premium version for writers who want to avoid word count limits. The price starts at $6.58 per month. But you can subscribe to the lifetime plan for $399.
Ginger Grammar
Ginger is one of the best passive voice checker tools to improve your writing skills. I tried it earlier this year and liked many of the features and how easy they were to use.
If you're on the premium version, this writing tool can spot passive voice sentences in your writing. Perfect your grammar as Ginger provides accurate suggestions on your content.
Aside from detecting any grammatical errors, Ginger also spots spelling mistakes and corrects them. It also has features for subject-verb agreement, misused words, and consecutive nouns.
Any writer will be thrilled to use Ginger's rephraser, which helps you articulate your ideas perfectly. A personal trainer tool also collects data about your writing mistakes and provides practice sessions according to them.
One cool feature of Ginger is its translator. Translate your texts in 60+ languages to communicate effectively with your audience. But the grammar checker is only available for your English language writing.
Ginger offers a free and premium version, starting at $7.49 per month. You can download it for desktop and mobile or as an extension.
Whitesmoke
Whitesmoke is another active or passive voice checker that turns your passive voice construction into active voice sentences. While I liked what it had to offer, it wasn't as good as others, in my personal opinion.
This grammar-checking tool helps you become a better content creator through other online tools for your writing style.
Part of this passive voice detector's quick proofread feature is its report on your grammar and spelling errors. WhiteSmoke offers a comprehensive report on your English writing, including comma splices, capitalizations, object clauses, etc.
It's an excellent tool for blog posts, academic writing, and other text types because it checks for run-on sentences and fragments. WhiteSmoke improves the flow of your work to make it easier to read. You also try the helpful translator and plagiarism checker.
You can download WhiteSmoke as a desktop app on Windows and Mac. There's also an option to download Chrome, Firefox, Safari, Microsoft Edge, and Opera browser extensions.
WhiteSmoke is a low-cost grammar checker priced at $5.00 per month.
Hemingway Editor
I enjoyed using this. It's simple and easy to access. But I felt it might have been a little too simple for what I do.
But Hemingway is not your typical language grammar checking tool. Instead of fixing any grammar error, it focuses on certain elements of writing style. It ensures that your work doesn't demonstrate poor readability in any way.
This tool features a color-coding system for highlighting your style issues. The passive voice checking tool highlights passive sentences in the color green.
It also highlights hard-to-read sentences in yellow and red. Hemingway also flags complex phrases and weak adverbs.
This editor provides a grade score of your readability. Ideally, your work should possess at least a tenth-grade level readability to make you a stronger writer. It also provides your reading time, letter count, character count, etc.
Hemingway Editor is available for free. But you can download the Hemingway App for $19.99, so you can use it offline and publish directly to WordPress and Medium. The paid version also lets you export to Microsoft Word or other editors.
GrammarCheck
GrammarCheck is an online tool that will help you correct your sentences in the passive form to the active version. It quickly checks your work for grammatical errors and provides alternate spelling to your typos.
But GrammarCheck does more than fixing passive construction. Besides its English language grammar checking features, it can make your writing stronger through proper punctuation and removing complicated expressions.
I do not recommend solely relying on GrammarCheck to polish your writing. It merely adheres to custom writing guidelines. Sometimes, it doesn't even spot the most common mistakes. But its limited features are acceptable since GrammarCheck is a free tool.
Datayze
Datayze is another text editor that corrects your passive voice misuse. Fellow writers will appreciate this tool for making their writing smoother and more readable. Besides fixing passive voice errors, the editing software also fixes basic spelling and grammar errors.
Despite its dated interface, Datayze has a comprehensive list of features. There's a readability analyzer, word blender, alternate spelling finder, and extraneous word finder.
Datayze is free to use with an internet connection. One disadvantage of this editor is the lack of real-time editing. It also doesn't spot all passive voice mistakes in your document.
Understanding Passive Voice vs. Active Voice
Millions of writers have trouble differentiating between the passive and active voices in English. The active voice indicates a sentence with the subject performing an action.
Example: The journalist is interviewing the celebrity.
In the sentence above, the subject "journalist" does the action "interviewing." As a writer, you should always focus on readability by making sure your statements use active verbs. This active voice gives you a more precise and direct tone.
In the passive voice, the subjects do not perform the action verbs because the whole sentence is flipped.
Example: The celebrity is being interviewed by the journalist.
Using passive sentences isn't necessarily a mistake. It only becomes a style error when one overly uses it, resulting in a lack of clarity in writing. You should only use "celebrity" as the subject in this context if your entire topic revolves around the celebrity and not the journalist.
But the safest option is to use the active voice. It gives you a more definitive subject that does the action, making your readers more interested and engaged.
Does Grammarly Pick Up the Passive Voice?
Grammarly is one of the few online grammar checkers that can check your writing for passive voice. Sometimes, it alerts you that your sentence is in the passive voice, requiring you to change it manually. But Grammarly also suggests automatic rewrites, which you can accept.
In some cases, the writer forgets to include the doer of the action.
Example: The ball was tossed.
Grammarly asks you to type who or what tossed the ball. Then, it automatically changes your sentence into "___ tossed the ball."
No other grammar checker can provide comprehensive suggestions for the passive voice like Grammarly. This feature makes your text clearer and more active and engaging.
Use Passive Voice Checkers to Tighten Your Writing
Spotting a passive voice in your writing isn't easy. But this guide has shown you the seven best passive voice checkers and correctors that will instantly detect these writing style flaws. All of these online tools will give your content more intent and authority.
Which active or passive voice checker are you getting?