As an author, I know that a built-in word processor and an online editor for contextual spelling errors and grammatical mistakes are inadequate. If you're getting serious about publishing a book, you need the best book editing software.
I compiled a roundup of the best book editing software you can use for your next manuscript. This list contains apps that are available on Windows and Mac. I've used most of them for my Windows PC, so I'll add my two cents. But read on and pick which one will work best for you.
Top Book Editing Software Picks
ProWritingAid
Professional writers like me will benefit a lot from ProWritingAid's numerous features. This spelling and grammar checker helps you create error-free sentences in your books and other documents.
Whether you're the author of a book or an article writer, ProWritingAid edits your work to be more readable. The writing style report highlights passive sentences, overuse of adverbs, repeated sentence starts, and more. In fact, you'll get 25 reports if you have the premium version.
Some writing reports catered to fiction writers are the dialogue tags and pacing. These help you create a strong narrative with a mix of fast- and slow-paced parts.
The grammar checker also lets you access the summary report, where you see where your document looks great. It's like a report card that will give you an overview of which writing aspects you need to improve. You'll also see your grammar, style, and spelling scores.
The book editing software caters to long-form content because it's compatible with Scrivener. Use this integration to analyze your project's cliches, sticky sentences, and transitions.
ProWritingAid starts at $79. It's suitable for fiction and non-fiction writers who want to do more than correct errors.
Grammarly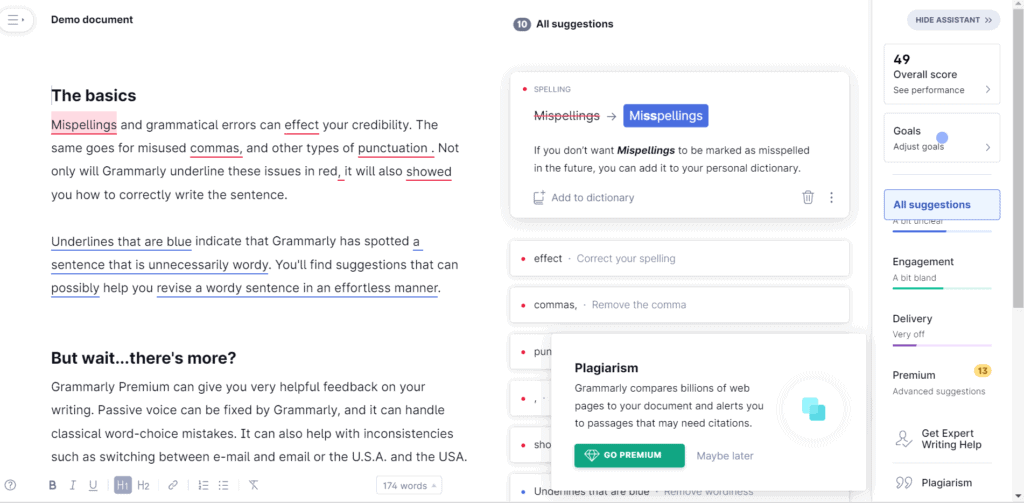 This is my go-to choice for book editing software. I love how easy it is to use, the detailed reports, and the step-by-step help it gives me while editing.
This accurate grammar checker provides a detailed report of your work, from punctuation and spelling mistakes to sentence structures. After suggesting a correction, Grammarly explains its suggestion so you won't make the same mistake in the future.
Professional editors also love Grammarly Premium because of its plagiarism checker. This feature is vital if you write academic books, technical pieces, and non-fiction.
One reason behind Grammarly's success is its multiple platform availability. Correct your grammatical errors on the web editor or download the browser extension. You also have the option to install the desktop application on Windows and Mac and the mobile app.
One downside to Grammarly is that it can't help you with your book structure and formatting. While it can make suggestions regarding lists and numbering, the application can't help with page numbers and tables of contents.
Use Grammarly to edit every draft you make for your book. It offers a monthly subscription of $30, but if you opt for the yearly plan, it works out to be $12/month.
Scrivener
Scrivener is one of the most popular book writing tools with advanced features for long-form content writing. Professional book editors use this tool to organize character profiles, create a breakdown of scenes, and plan each chapter of the book.
Personally, I only use Scrivener to help me write screenplays. It has a built-in function for formatting them properly, which I love. But I know many authors who use it to help edit their books.
This writing software specifically has three ways to help you fix your content: the Editor, Corkboard, and Outliner.
These options let you break down large books by their headings and subheadings. Quickly access your ideas on scene details so you can move around in seconds.
Another excellent feature of Scrivener is its preloaded writing templates. They offer templates for novels, short stories, screenplays, and blog posts. But if you can't find one that suits you, you can make your own and save it.
But Scrivener does not have collaboration features. It's challenging to share your file with fellow writers or editors, leaving you stranded on your project.
Use Scrivener on your next book idea. This value-for-money service offers a 30-day free trial, then a one-time payment of $49.
AutoCrit
AutoCrit is not like other ordinary grammar checkers. This app for authors does not focus on spelling and punctuation errors or difficult sentences. Instead, it concentrates on how you can enhance your creative sentences and your overall fiction writing.
It's one of the online book editors that features dialogue, strong writing, word choice, and repetition reports. AutoCrit also offers an explanation for suggestions. For example, the pacing and momentum feature tells you which parts are a slow read.
Another excellent feature is the dialogue tab, which lets you know if the conversations in your story sound natural. It alerts you when your characters are "shouting" and "exclaiming" too much.
AutoCrit works very similar to how Hemingway Editor highlights passive voice and overuse of adverbs. It works like ProWritingAid in analyzing cliches, repeats, and emotional tells in your sentences.
The novel editing software has a free version. But you can unlock the premium features at $80 a month.
Hemingway App
Hemingway Editor or App is not necessarily a book writing software. But it can help you spot complex sentences in your writing to enhance your readability. The application improves your strength of writing through its color-coding system.
For instance, yellow highlights are for complex sentences, while green highlights indicate the passive voice. Hemingway won't correct your grammatical mistakes as the desktop app specializes in making your writing as concise as possible.
Hemingway doesn't flag typos and subject-verb disagreements compared to other online editors. It simply helps business writers and other writers know their reading grade level, word count, and complicated statements.
Hemingway won't help you format books. Some creative writers may even find it unhelpful because long sentences are part of their "style." But it's great for those who want to be direct to the point, like the iconic Ernest Hemingway.
Use Hemingway for free in your next book or blog post. Or download the paid version for offline editing.
Vellum
Vellum does not provide a detailed summary report of your text as it focuses more on the formatting aspect of your manuscript. Unlike a basic grammar checker, this application helps you assemble different books, produce copies, and add social media links.
This book editing desktop app includes key features like ornamental breaks, title pages, and a table of contents. Beyond that, the book editor lets you add an epilogue or the first chapter of your second book at the end of your first one.
Many successful books by authors were developed on this app. Vellum has eight professional styles, including "Meridian" and "Artisanal."
One downside to Vellum is that it's only available for Mac users. It eliminates the app as an option for many potential Windows users. The Mac-only application costs up to $49 per month.
Google Docs
Google Docs is a basic word processor that lets you write an entire manuscript or simple reports without limitations. It has all the formatting, layout, and style options you need for different types of written documents.
The word-processing program also displays your word and character count while letting you add images, charts, and drawings. It has a simple proofreader that enables you to correct some spelling and grammatical mistakes.
But Google Docs' best feature is its collaboration features. If you write with a team, you can instantly work on the same document simultaneously. This striking feature is also ideal for writers who always consult their editors for suggestions.
Advanced writers may need more than Google Docs' basic features. It won't let you organize each chapter or skip to another part of your book. This makes book organization difficult, especially when planning scenes as a fiction writer.
Let's say you're writing your first few book chapters, but then you instantly have an idea for the fifth chapter. Should you open a new document or leave a note on the "Chapter 5" heading?
You will also need to open a separate file for every character description if you need a refresher while writing.
Google Docs is completely free. There's no need for an annual subscription to sign up. All you need is to register a Google account. Then you can start with your book manuscript.
SmartEdit
SmartEdit cannot replace a human proofreader or a human editor. But it's one of the few book editors that can help you revise your short stories and novels. Previously known as Atomic Scribbler, this editing tool is not designed for basic spelling and grammar checkers.
The app can help you plan your novels and characters, maintain research, and write the chapter scene by scene. It only focuses on minimal accurate spelling suggestions, but it can also recommend changes in repetitive words and adverbs.
SmartEdit is a choice of book editing tool among aspiring authors. But it has received complaints from writers about its limited suggestions and extensions. Buy this Word-only service from $77 to $139.
WordRake
WordRake is an editor that performs spelling and grammar checks as one of the types of book editing. This MS Word and Outlook integration has resulted in several book successes because of the author's free error-free writing.
The application is like a basic version of Grammarly, which has a built-in spelling and style check. You can use it for any daunting project because WordRake gives instant results and a choice in accepting its suggestions.
With this online editing tool, you are guaranteed that your sentences are clearer to your readers. However, this tool does not provide an in-depth explanation for every suggestion. You need to use your human judgment as some corrections are inaccurate or unnecessary.
WordRake offers a free trial, then requires a yearly subscription of $129.
Different Stages of Book Editing
Editing a book is different from blog posts, business documents, and academic writing. They usually require more time and steps because of the length of the content. Take a peek at the many stages of book editing.
Beta Reading
A beta reader is an individual that gives initial feedback on an author's early drafts. Their responsibility is to inform the writer about any edits they should make as early as possible.
I use a beta reader after I self-edit and before sending it to my editor. It helps to work out any plot kinks and makes my editor's job easier.
They don't have a dedicated style guide or grammar checker. Instead, beta readers focus on the actual story. Is the joke funny enough? Do the characters stand out? What would an ordinary reader think about your work?
Self-Editing
Self-editing is simply editing by oneself. But it's definitely not a replacement for professional editing done by copy editors and proofreaders. Improve your manuscript as much as possible before handing it to your editor so that your personal style stays intact.
I self-edit in several layers. First, a read-through with my own eyes. Then I put it through a round of Grammarly. And lastly, I toss the manuscript in Google Docs and use its built-in editor.
Story Editing
Story editing or developmental editing concentrates on the big picture stuff. This type of editing is considered the most expensive stage because it analyzes every story element per chapter.
Some independent authors hire beta readers for this stage, but most of these readers are not professionals. Another cheaper alternative for story editing is manuscript assessments. Here, you will receive a single report on your story rather than line-by-line feedback.
Copy Editing
Copy editing is the fourth stage of editing, where the spelling, grammar, punctuation, and writing style are checked. Some authors hire a separate line editor to analyze their writing style.
The copy editor is also responsible for sentence variety, repetitions, and overused words. Copy editing may involve plagiarism-checking if you're writing a non-fiction book.
Proofreading
Proofing or proofreading is the last stage of book editing that carefully checks for last-minute errors before publishing. It also guarantees that your page numbers, format, and overall layout are perfect.
Some writers hire a 2-in-1 copy editor and proofreader. But it's much better to have different pairs of fresh eyes when analyzing your book.
How Do You Edit a Book Quickly?
The quickest way to edit your book is by self-editing with a combination of tools. You can use Grammarly for your spelling and grammar checker, ProWritingAid for your writing style, and Vellum for the book layout.
Self-editing without a tool also helps. Read the text aloud as you focus on the mechanical errors. Then, read it another time while taking into account the bigger picture.
Be a Bestselling Author with a Book Editing Software
There are many available writing editors on the market. But most of them are not enough for brainstorming, making layouts, and finalizing an entire manuscript. What you need is book editing software.
Choosing the best book editing software will significantly impact your quality of writing. Which tool are you installing?