Are you looking for a content-related remote job? Why not be an editor? Many clients are looking for professionals who can revise and suggest changes to their written documents. There are tons of jobs in editing if you know where to look.
Learn how to get editing jobs with this list of 25 online platforms to start your freelance career. These websites contain proofreading, developmental editing, and copy editing jobs.
The Top 25 Job Sites for Online Editing Jobs
Most sites allow you to sign up for freelance editing job alerts, so you get first dibs on all the best opportunities and editing projects. If you're cool with the idea of freelance editing, you can easily launch your online service offering editing for all sorts of niches. It's a great way to build a portfolio that you can later use to land a more permanent position.
Online proofreading jobs and editing gigs are everywhere, you just need to sift through the ones that only offer the lowest freelancer fees and poor-quality editing clients. After a short while, you'll be able to spot those from a mile away.
Most popular sites and platforms have a dashboard for freelancers to track their work and clients. Some have direct routes to the clients with their own method of applying internally. Take some time to check out various online job sites and carefully curate the ones you want to work for.
1. Freelancer
Freelancer is the most popular platform for beginners and remote editors trying to learn how to get editing jobs. Many businesses look for freelancers on this website who can improve their online business differently.
Make sure to add your portfolio, mention your skills, and be an excellent bidder on the editing listings. The only downside to Freelancer is the number of clients offering low-paying jobs. But you can negotiate your rates once you have built a solid reputation on the platform.
2. Flexjobs
Flexjobs is a fantastic option for an editing career if you want more customized job opportunities. Unlike Freelancer, Flexjobs only lets you see the best listings for freelance editor positions. It also caters to different types of editors, including copy editors, editors-in-chief, advertising editors, assistant editors, and more.
Flexjobs also ensures you get the best job opportunities through their comprehensive employer research. You can also enhance your resume through their resume reviews and career coaching.
3. Cambridge Proofreading and Editing LLC
Cambridge Proofreading and Editing LLC's editing jobs are primarily for academic and business documents. That's because most clients are university students or professors in the academe.
The company sets you up through job proposals. It also guarantees that your career will be flexible as an academic editor. You can also pick which documents you want to work on.
4. The Muse
The Muse always updates its job board to give you the best editing opportunities. The company also offers detailed information about every career opening and the company's culture. The Muse also has an "Advice" section to help you decide your career path.
I recommend customizing the job opportunities based on location Set it to "flexible/remote" for more freelancing options to let you work at home. The Muse also prefers specific searches, like copy editor, news editor, or proofreader.
5. Reedsy
Reedsy isn't for all kinds of editors. Only aspiring book editors can apply for a job on this website; their team is very picky! Sign up for an account and make the application. Showcase your skills and wait to be accepted.
Once you get inside Reedsy, you'll have the chance to work with several publishers and best-selling authors. Autonomy is also crucial for those in Reedsy. That means you can control your rates and independently hone your skills through their free courses.
6. Wordvice
Become a Wordvice editor if you wish to help ESL (English as a Second Language) learners be better writers. Help them edit their concept papers, research, and essays so that they will sound more native in their writing.
The editing job on Wordvice typically only includes checking for spelling, grammar, and readability issues. Other available careers include translating, content writing, and educational video instructing.
7. Scribendi
If you prefer a more formal culture even as you work from home, Scribendi has the best job for you. Your experience on the platform will hone your skills and open more freelancing opportunities.
Work on business writing, legal documents, and books of all kinds through Scribendi. There are also online forums available for freelancers who want to chat. Interact with the in-house staff and give feedback on each other's work.
8. LinkedIn
LinkedIn is the ultimate social networking site for work. And if you don't have an account yet, you're missing out. Connect with other freelancers and editors you know, and start looking for jobs.
This famous website also offers courses for different careers. Ensure you've enabled "open to work" and select "remote" when looking for an editing occupation.
9. Scribbr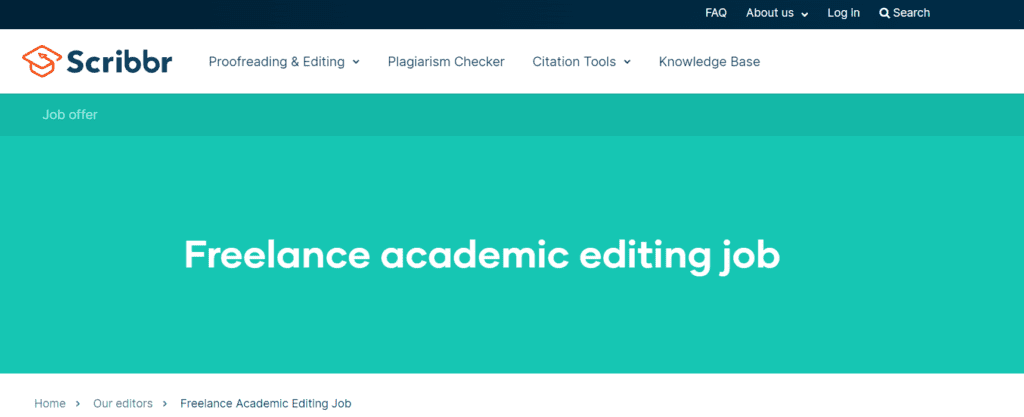 Scribbr is a website dedicated to all editors who want to help students enhance their work to get better grades. Correct their mechanical errors, improve their language and structure, and clarify their messages.
This online platform also encourages interaction among its editors. Be part of their Slack group message and join their offline meet-ups. But you need a bachelor's degree to be part of the team.
10. Filmless
Filmless specializes in freelance video editing, but they also have other job opportunities for content creating and editing. This company aims to offer the most accessible, most affordable, and fastest videos for different clients.
The work-from-home jobs include script writing, video editing, script editing, and voiceovers.
11. Checklist.com
Checklist.com is an underrated website that offers checklist templates for different activities and jobs. For example, it may create checklists for business startups, birthday parties, moving houses, etc.
Be part of Checklist.com's editing team. But be sure to have enough knowledge of SEO (search engine optimization).
12. SalesFolk
SalesFolk is a company that produces email templates and outbound sales. It offers copy editing jobs, where you have to make emails more concise and compelling. Review every email campaign, and continue developing your skills through its training sessions.
You will use proprietary software to edit if you qualify for the job. You may also perform line edits and make suggestions to writers.
13. WebFX
WebFX currently offers remote copy and content editing jobs to SEO experts. They are a full-service digital marketing company working with different brands and businesses with growth in mind.
The editing job requires 40 hours of remote work and exceptional communication skills. As with other editing jobs, you must also have a sharp vision for writing errors.
14. Working Nomads

Today's generation aspires to work wherever they are in the world. If you're one of those who hustle while traveling, apply for an editing job at Working Nomads. Its newsletter lets you sign up for online editing jobs, whether it's media editing or content editing.
15. Freelance Writing Jobs
Nope, this platform isn't only for writing jobs. You can also find a handful of editing opportunities on Freelance Writing Jobs. They have new openings daily, which you can check and apply for. Look for a suitable gig that fits your expertise and passions.
Freelance Writing Jobs also values the content community. Writers and editors developed the site for everyone to communicate and share essential information. Beginners will learn a lot from the experienced freelancers on this site.
16. WriterAccess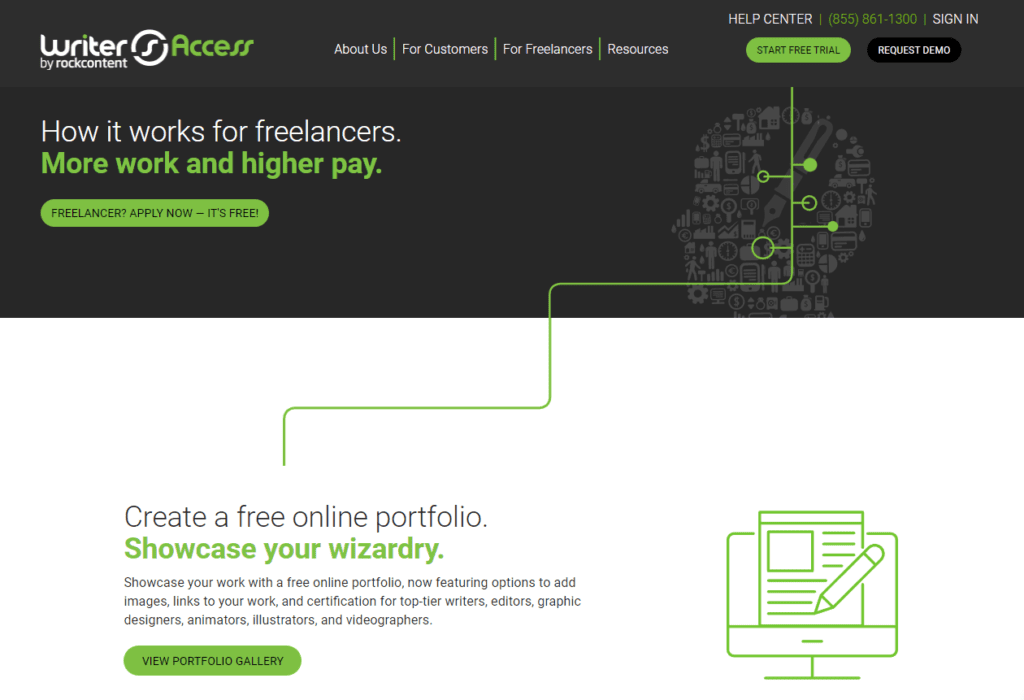 WriterAccess is a website that links clients to editors. Market yourself on this website for other agencies and clients to see. Don't forget to add your impressive skill level in editing, portfolio, and other work experiences. This platform is perfect for aspiring editors who are only starting.
17. Shopify Partners
Shopify isn't meant to provide freelancing opportunities since it's an eCommerce platform for small businesses that sell goods. But many business owners look for freelance editors, proofreaders, and writers here.
18. Valnet
Have you heard of the famous websites ScreenRant and BabyGaga? Valnet runs these websites about gaming, pop culture, and comics. Apply to this company if you prefer a video editing job rather than a content editing position. Although they usually have opportunities in both areas.
Valnet gives very tight deadlines, but the results will be rewarding. The job of a freelance video editor is to keep videos fun and entertaining.
19. EditFast
Start registering on EditFast to secure an editing job and work at becoming an exceptional editor. The classic website is best for skilled proofreaders and editors who know how to meet deadlines and produce high-quality works.
But EditFast has a strict registration process. You should build a resume, pass numerous editing tests, and sign a non-disclosure agreement. It also requires you to buy a web page builder.
20. Gramlee
Another place to look for remote editing positions is Gramlee. The website is dedicated to providing experienced editors to clients worldwide. But with thousands of potential clients also come thousands of freelancers.
Gramlee receives hundreds of applications weekly, so the competition is pretty tight. And there's a wait time before you get accepted.
21. Editor World
Editor World requires you to sign up for an account and fill out an application form before they accept you. The application process also includes an editing test which you need to pass. But once the team hires you, your opportunities are endless.
22. Jobs for Editors
Jobs for Editors is a convenient website to look for editing and writing gigs. All listings on this platform require English writing, and you'll be able to explore different topics. The application process on Jobs for Editors is easier because you only need to submit a resume.
23. Wordapp
On Wordapp, your job is to examine a writer's content and make the necessary suggestions. Unlike other editing job platforms, Wordapp lets you work with templates. You'll save more time working and increase your chances of earning.
Your task is to choose a text from your task list and ensure it's error-free. Check its spelling, grammar, and logical flow and submit it to the writer.
24. Morning Coffee
Morning Coffee is an eNewsletter by FreelanceWriting.com. It lets you receive automatic job alerts about freelance editing jobs or other opportunities for editors. They also announce writing jobs for aspiring writers.
25. Start Your Own Site
Instead of posting yourself on different online marketplaces for editing jobs, why not create your own website? You'll reach more clients when you have your own platform where you can showcase your skills and services.
Newbies can start a blog on WordPress, Wix, or Appy Pie Website Builder and post entries about content editing. Practice being a social media editor, and an SEO editor, and work with online writing tools while you build your content and optimize your site. Your quality of writing and skills as an editor will quickly grow, and then the online editor jobs will come to you!
How Do I Become an Editor With No Experience?
Learning how to get editing jobs without experience is easy if you're willing to develop your skills. Whether it's photo editing, novel editing, academic editing services, or even business editing, you can build a dream editing job for yourself. Here are some ways to be a successful editor without experience.
Take an Editing Course
The best investment is your knowledge. Signing up for a proofreading or editing course will help you kickstart your freelance career. Most of these online programs will teach you to spot common writing errors and even offer a job for you when you're done with the course.
There are so many levels of editing and different divisions where you can specialize, even with minimal editing experience. Some start with blog editing jobs from freelance sites, while others focus on an area they're comfortable in, such as fiction editing or copy editing.
Look for an editing course with additional topics on starting a freelancing business. They'll teach you what you need to build a resume, where to post your services, and how to communicate with potential clients.
Use Online Grammar Checkers
Online grammar checkers like Grammarly and ProwritingAid are valuable tools for your editing job. They will help you spot mechanical errors like misspelling and grammatical mistakes to make your work easier.
But I don't recommend solely relying on these software programs. Combine these tools with your impressive skills to produce the best quality pieces.
Join Freelancing Platforms
Freelancing, Upwork, and LinkedIn are home to the best job listings. But there are also websites dedicated to editing jobs alone. Make sure you know how to market yourself on these platforms to attract more clients and win the competition.
Is Editing a Good Paying Job?
Yes, editing gigs make for a good-paying job if you work full time. Comparably states that the average financial editor makes up to $108,446 as an annual salary. In some states like San Francisco, the salary can reach $167,624, depending on the editing client.
Your rates will depend on how many words you can edit if you're an aspiring freelance editor. Prices usually range anywhere from $13-$16 per 1000 words, depending on the genre and expertise.
Other editors charge by the hour, but I do not recommend this method. It will be difficult for you to calculate your rates before starting the project. So, when doing your editing job search, look for ones that offer the option of hourly or flat rates.
Can I Become an Editor Without a Degree?
Yes, you can become an editor even without a bachelor's degree or professional editing experience. Many clients look for freelance editors with better work experience or impressive editing skills rather than examining your educational background.
The best way to gain skills without an academic background is by taking proofreading courses. Then, build your work experience until you land your ideal job.
Types of Online Editing You Can Do
There are many types of editing for your writing. You can consider these editing stages if you work in traditional publishing companies.
Developmental Editing
Developmental editing requires you to look at the bigger picture of a manuscript, then edit any mistakes. The editor should read the entire piece and suggest ways to improve the story or essay in terms of the ideas, characters, supporting details, conflict, and more.
This type of editing doesn't focus on spelling, grammar, and punctuation issues. You need to point out if a character is too dull or the essay has contradicting arguments.
A developmental edit is usually the first stage of editing. Editors perform this activity once the writer has finished their first draft.
Structural Editing
Structural editing is only for stories, whether novels or short stories. It focuses on the structure of a story, from the exposition to the denouement. The editor's job is to read the entire story and advise on the story's flow and structure rather than its elements.
For example, will the reader understand if you switch between flashbacks and the present time? Or will it help to start the book with its ending? Structural editors also check the length and amount of chapters in your book.
Some editing services include a mix of developmental and structural editing. This bundle is helpful for writers who want to save more money.
Line Editing
Line editors, also known as stylistic editing, focus on the flow and perspective of your prose. These editors check every line of your writing, concentrating on your word choice and sentence structure. They also make sure writers correctly conjugate the verbs.
In simpler terms, line editing is about making the prose sound better. They won't correct your misspellings and other mechanical errors, though.
Copy Editing
Copy editing is a common type of editing for different types of writing. Many copy editing jobs are available online, where you can pick apart an entire piece and check its spelling and grammar.
Also known as mechanical editing, copy editing focuses on grammar correctness, punctuation, spelling, and other conventions. It also ensures consistency in pronouns, proper transitional devices, and correct preposition usage.
Fact-checking is also a vital role of the copy editor. Editors will check if your sources are reliable and if the ideas are accurate.
Proofreading
The last type of editing is proofreading, which looks at the final draft or manuscript. The proofreader looks for any mechanical error the copy editor may have missed, then pays attention to the format. They ensure your spacing, font style, and page numbers are correct.
Proofreaders usually use hard-copy versions to mark any errors in the design. But online proofreaders use MS Word or Docs to suggest final edits.
Best of Luck Finding a Remote Editing Job
Landing an editing job you can do remotely is very rewarding. I hope this guide on how to get editing jobs has helped you set up your freelance career. These online platforms offer different career opportunities, from line editing to copy editing jobs. Find an editing job, enhance your skills, and market yourself out there now!
Check out our post on Amazon editing jobs here.