Even the best writers need to proofread their work because they experience grammatical mistakes and poor wording. Two innovations that have transformed the world of online writing are Quillbot and Grammarly.
This article shows a side-by-side comparison of Quillbot vs. Grammarly. I compare their features, ease of use, and pricing to help you decide which one to get.
What is Quillbot?
Quillbot is an online paraphrasing tool developed in 2017 by Rohan Gupta to improve your writing. The sentence rephraser's main branding is based on the idea that writers should focus on their content rather than their method for creating it.
It uses AI and machine learning to turn your text into its best version without ruining its meaning. Quillbot has other features that users can try aside from its rephraser. It also has a citation generator, summarizer, and grammar checker.
Quillbot also gives you options for finding suitable synonyms for your work. It's ideal for students and professional writers who want their documents to sound better and unique.
The software is not your typical proofreading tool that corrects punctuation and spelling mistakes. It improves your writing experience through alternative ways to articulate your piece of content. Quillbot is also one of the few writing tools with SEO features used by millions worldwide.
What is Grammarly?
Grammarly is an advanced grammar checking tool available on Android, iOS, Mac, and Windows to fix your spelling and grammar mistakes. Though the online writing world is filled with grammar checkers, this program remains on top because of its incredible benefits.
The helpful tool helps save time editing your document and producing flawless content because it offers suggestions in all aspects. You can tailor Grammarly's recommendations based on your audience, intent, and genre. Each suggestion also has a corresponding explanation.
Not only are you enhancing your piece of writing, but you're also learning. Every detailed explanation of your error improves your writing skills, so next time, you won't make the same mistake.
Grammarly is an ideal writing tool for students, business owners, and content publishers. Its other features include a plagiarism tool, personal dictionary, thesaurus, and tone detection.
There's also a business version with snippets and a consistent brand tone.
Why Use Quillbot?
Quillbot offers unique benefits to users who want to improve their content.
Reduces Writer's Block
Quillbot's seven Quill modes on the premium plan allow you to rephrase your sentences in many ways without a phrasing error. It's a perfect tool to kickstart your freelance writing career, especially if you're running out of words to make your writing sound better.
The online tool also has a feature to compare your original text with the new one to see the changes. After using the paraphrasing tool, use the basic grammar checker to correct any grammar mistakes.
Easy to Use
Aside from not having to sign up anymore, Quillbot has a clean dashboard that lets you navigate the site quickly. You'll find the Summarizer, Rephraser, and Grammar Checker right away.
Quillbot also offers extensions on Google Chrome, Docs, and Microsoft Word. This feature means you don't have to switch apps when writing anymore.
Saves Writing Time
Quillbot claims that it has saved up to 75% of writers' time for their projects. Over 50 million people use it worldwide to improve their content, and 85% of students reported higher grades.
Why Use Grammarly?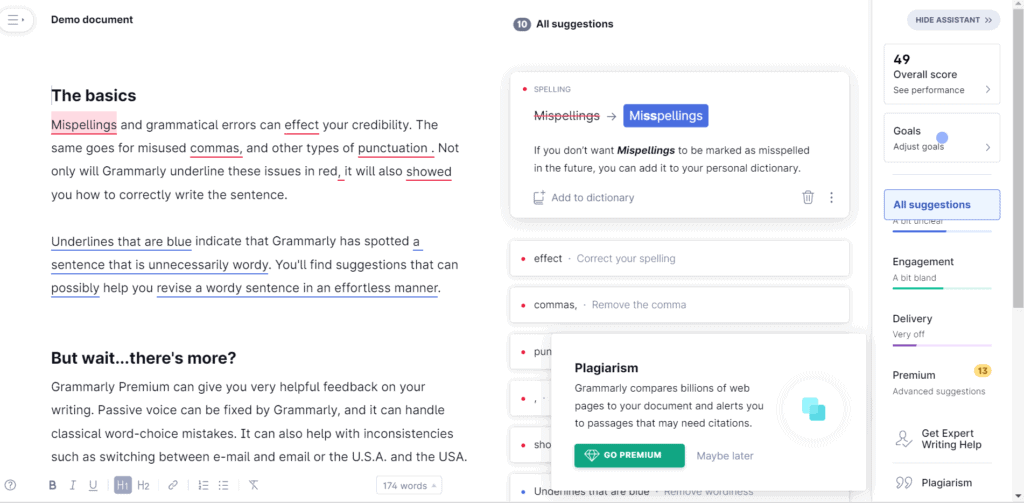 There are several reasons Grammarly has shown rapid growth in the past few years. Here are some of them.
Accurate Grammar Checker with Explanations
Grammarly, in my opinion, is one of the best proofreading tools that go beyond pointing out your spelling and grammatical errors. It shows you why your sentences are wrong and how you can improve your English grammar.
Even if you're a professional writer, you'll learn a lot about its writing style and conciseness recommendations. Grammarly also flags offensive words and tautologies if you use the premium version. It will guarantee that you'll learn how to become a better writer.
Customizable
The grammar checker helps you make high-quality content by letting you customize the suggestions according to your writing needs. Whether you want your piece of writing to be friendly or formal, Grammarly can do the job.
It also corrects more than your sentence structure for proper grammar. Grammarly will help you get more engagement by communicating your message more clearly to your target audience.
Easy to Use
Although it does not perform offline checks, Grammarly is super easy to use on the web editor, Google Docs, or Word. This excellent tool offers real-time corrections on your grammar and spelling errors no matter what browser you're using.
Most Popular Writing Tool
Whether you're using it for school purposes or your online business, Grammarly should be your go-to grammar tool. Its advanced features are available in several plans for you to choose from.
Grammarly claims to have 30 million users and 30,000 teams using their program for correct, engaging, and concise writing. It helps people replace complicated, repetitive, and outdated language with more efficient ones.
Best Features of Quillbot
Paraphrasing and Summarizing Tool
Millions of writers use Quillbot mainly for its paraphrasing and summarizing tools that help produce high-quality documents. Quillbot is a handy writing tool that spins your essays depending on the style or tone you prefer.
The cutting-edge paraphrasing program only requires you to type your sentence and press the "Para" button. Then, it will rewrite the whole text and turn it into impeccable content without ruining its context.
Quillbot is also a budget-friendly writing assistant that summarizes your documents. This professional tool uses artificial intelligence to summarize your work in a paragraph or a list of key sentences.
Writing Modes
Quillbot's free edition features two writing modes to complement its paraphrase feature. But if you subscribe to Quillbot premium, you get seven writing modes with more benefits. The AI-powered writing tool can make your content perfect through the following:
Standard mode for changing the text while keeping its meaning.
Fluency mode for fixing grammar issues.
Formal mode to make your writing sound professional.
Simple mode to make your content readable.
Creative mode to make your writing sound completely different.
Shorten mode makes your sentences more concise.
Expand mode to increase your sentence lengths or word count.
These seven modes are perfect for different types of writing, including blog posts and academic papers. You can also use the formal mode for business writing.
You can change the mode by clicking on the mode you want to choose above the text box. I found the creative and formal modes similar despite their different intents. The shorten and expand modes are the most valuable features writers can try.
Citation Generator
Quillbot's citation generator is an ideal option for any college student or essayist who needs to cite their sources regularly. It makes editing more manageable as you don't have to create your bibliography manually.
The writing assistant lets you pick from dozens of style guides. They include APA, MLA, Harvard, the Chicago Manual of Style, etc. You need to enter the necessary information, including the resource type, contributors, title, and date published.
Thesaurus
Most grammar-checking tools feature a thesaurus to give users plenty of options for their terms. Quillbot's thesaurus functions like Grammarly, providing the perfect synonyms for words you've overused.
However, these words are not always context-specific. It would be best to choose more familiar terms to prevent your readers from misunderstanding your posts.
Grammar and Plagiarism Checker
Quillbot's basic grammar checker is suitable for proofreading your work before posting it. It supports American, British, and Australian English while correcting any spelling and grammar errors you have.
While it's not as advanced as Grammarly, Quillbot's grammar correction is better than Google Docs and MS Word. It's an affordable option that makes your writing sound more native.
The editor also has a plagiarism checker, which every online content writer needs for higher search engine rankings. This new feature lets you paste or upload your text. Then it creates a detailed report of any duplicate content found.
Quillbot provides a percentage of text matches and links these sections to the original source. It also displays similar words and a color-coded indication of identical, minor changes, and omitted words.
Extensions
Quillbot offers better workflows through integrations with Microsoft Word, Google Docs, and Chrome. These add-ons will help you access Quillbot's functionalities without opening another program.
Best Features of Grammarly
Grammar Checker
Nothing tops Grammarly's ability to spot spelling and grammatical mistakes. This AI-powered software offers suggestions on your tone, conciseness, and delivery, making sure you produce smooth writing.
Unlike the Quillbot Grammar Checker, Grammarly lets the user review each suggestion. You can accept or decline the corrections after reading the detailed explanations. It can also correct more than spelling, grammar, and punctuation errors.
If you subscribe to Premium Grammarly, the grammar checking tool will offer reports on the following:
Passive voice.
Repetitive words.
Context-specific word suggestions.
Dangling modifiers.
Non-inclusive language.
Formal language.
Respectful and confident language.
This excellent, hassle-free proofreading tool also offers an overall score for your work. The number is based on clarity, correctness, deliverability, and engagement.
Another hidden feature of Grammarly is its report on the numbers of your characters, words, and sentences. It also displays the reading and speaking time of your document.
Tone Detection
Besides the proofreading feature, Grammarly also gives you human-like reports on the tone of your writing. It features three measures of how your content may sound, completing the grammar solution it offers. They include "confident," "optimistic," and "joyful."
Content publishers can take advantage of this feature to adjust their writing according to their specific audience. If you write emails repeatedly, Grammarly's tone detector can also be a massive help to you.
Plagiarism Checker
Grammarly Premium has an efficient plagiarism checker that looks for duplicate content in your work. It's one of the best plagiarism tools that scans your writing against billions of published and unpublished sources.
The plagiarism tool highlights any part of your text that is similar or directly copied from another source. Grammarly then provides a link to the source to help you properly cite it.
Word Enhancement and Thesaurus
These underrated features of Grammarly will help you enhance your vocabulary in your writing.
Highlight any word you want to change, and Grammarly will provide alternative words or synonyms. Sometimes, it automatically gives alternative word suggestions for repetitive words.
Extensions
Grammarly offers five different ways to be used, whether you're a free or premium user. Aside from the web tool, you can download this program as a desktop app on Windows and macOS.
Connect your Grammarly to Microsoft Word to get real-time suggestions as you type. If you install the browser extension, you can experience the same with emails, Google Docs, and social media.
Lastly, Grammarly offers a mobile application for both iOS and Android devices. It will provide suggestions on enhancing them as you compose text messages and emails.
Quillbot Pricing
You can use Quillbot without spending a cent or even signing up. However, the service features strict limitations regarding characters and sentences. For instance, Quillbot Free has a 5000-character limit on its summarizer, whereas Premium has 25,000.
You can choose from three of Quillbot's affordable premium plans.
Annual Plan: $79.95 ($6.67 per month).
Semi-Annual Plan: $59.95 ($9.99 per month).
Monthly Plan: $14.95.
These plans are more affordable than Grammarly. You can try Quillbot's yearly subscription to save more money in the long run. But if you would rather pay small amounts every period, the semi-annual plan is highly recommended.
Grammarly Pricing
Grammarly's free version only offers correctness and clarity reports. It corrects your grammar, spelling, and punctuation without offering compelling vocabulary and delivery.
Grammarly Premium offers the following pricing plans:
Annual Plan: $139.95 ($11.66 per month).
Quarterly Plan: $59.95 ($19.98 per month).
Monthly Plan: $29.95.
Grammarly Business is for teams of three and up who want to enjoy snippets, brand tones, and other business-related features. Its pricing depends on the number of users on your team.
3-9 members: $180 per seat every year/$15 per month.
10-49 members: $174 per seat every year/$14.50 per month.
50-140 members: $150 per seat every year/$12.50 per month.
Grammarly's subscription modules are similar to Quillbot. But it's more expensive because of the multiple features. Consider its free trial version before upgrading to Premium. Once you've decided to purchase, I recommend going for the annual plan so you can save more.
Who Should Use Quillbot?
Quillbot's functions are more targeted than Grammarly's inclusive features. Overall, I believe SEO writers and marketers will benefit the most from this application. If you're writing a blog post or even a short paragraph, it can paraphrase your work to sound better than competitors.
Those who work in the media and news industries can also use Quillbot. It's a convenient way to enhance a piece of content for summaries of long stories. Use it for other press-related materials to make your writing more unique.
Academics or students can use Quillbot to avoid too many direct quotations when citing sources. If they have a hard time paraphrasing a reference, they can quickly run it on Quillbot to spin it.
The summarizer is also ideal for creating abstracts from research papers or dissertations. Then, you can consult the citation manager for the proper in-text citation. Quillbot also provides a complete citation of the reference, which you can add to the reference list.
Some writers get uninspired when trying to hit a word count. Quillbot's expand and shorten modes can help them resolve this issue.
Who Should Use Grammarly?
Grammarly is beneficial for all types of writers in different fields. It's suitable for native English speakers who want to improve the quality of their writing. Even non-native English speakers can benefit from this online writing tool.
If you're into blogging and want to get higher reader retention, Grammarly will make your posts more concise. It also offers sentence-type variety so that your statements do not sound boring and monotonous. You can also adjust your work to be more conversational and engaging.
Academics, essayists, and students can also improve their academic writing with Grammarly's conciseness suggestions and plagiarism checker. It will guarantee that your work is original with all the necessary citations before submitting it.
Content publishers, small business owners, and digital marketers can also use Grammarly. You can even upgrade to the Business version so that Grammarly can help you with keyword-based snippets (similar to canned responses in Gmail.) The snippets library lets you view, add, and edit these snippets.
Quillbot vs. Grammarly: Which is Better?
Both Quillbot and Grammarly can enhance your writing because of their unique features in checking grammar, paraphrasing, and plagiarism-checking. You can subscribe to both premium versions to ease your workflow in various situations if possible.
But if I were only to choose one, Grammarly is a better online writing assistant. Despite lacking a paraphrasing feature, it offers genre-specific suggestions, tone detection, and a plagiarism checker. Try Grammarly now so you can set yourself up for writing success.