Writing plays an essential role in any job, whether you're a blogger, marketer, or student. That's why many online writing tools now exist to help you improve your writing. Two software programs to consider are Wordtune and Grammarly.
This Wordtune vs. Grammarly comparison will help you decide which online writing tool to get. Keep reading to know their features, ease of use, and pricing.
Wordtune vs. Grammarly Comparison Table
Features: Sentence rephraser. Engagement reports. Shorten and expand sentences. Translator tool.
Integrations: Google Chrome MS Word (Microsoft only).
Price: Starts at $9.99 per month.
Use For: Writers who want to avoid plagiarism and writer's block.
Features: Spelling, grammar, style checker. Detailed explanations. Plagiarism checker. Weekly reports. Vocabulary enhancement.
Integrations: Google Chrome, Microsoft Edge, Firefox, Safari. MS Word Windows and Mac Android and iOS applications.
Price: Starts at $12 per month.
Use For: Writers who want to correct spelling, grammar, and style mistakes.
Who Should Use Grammarly?
Grammarly is an online grammar checker established in 2009 by Max Lytvyn, Alex Shevchenko, and Dmytro Lider. They designed it to check your grammar, spelling, and style while helping you become a better writer.
If you're one of these people, Grammarly would be an excellent choice for you.
Business Owners
Grammarly is essential for every business owner. It has all the professional tools you need to make the text on your eCommerce site polished and perfect. Aside from error-free content, your tone stays consistent for audience retention.
If you subscribe to Grammarly Premium, your whole team can have individual accounts that will follow the same brand tone and style. This version also allows you to create snippets and access analytics.
Freelance Writers
Bloggers and freelance writers will also benefit from Grammarly because of its advanced proofreading functionalities. It will improve your writing by making it more accurate, audience-friendly, clear, and concise.
You'll also avoid making the same mistake next time because of the detailed explanations. Grammarly offers the best professional feedback that will make you a better writer.
Who Should Use Wordtune?
Wordtune is an advanced sentence rewriter developed by Yoav Shoham and Ori Goshen in 2018. The founders aimed to include excellent features that would allow users to articulate their ideas. Wordtune is perfect for the following professionals:
Content Marketers
Wordtune is an affordable alternative to Grammarly and Quillbot to help you communicate your message and generate conversion. Use it to balance the formality and friendliness of your product descriptions if you're marketing technical products.
Students
Sometimes, even properly cited statements get flagged as plagiarism by Turnitin and other apps. Students can use Wordtune to rewrite these sentences and avoid duplicate content.
If you're a college or university student, you also know that professors grade the readability of your work. Use the Chrome extension or Word add-in to make your text clearer and easier to understand. However, it will take several edits before you finish your work.
Freelance Writers
If you're a freelance writer who deals with daily word counts, Wordtune offers longer or shorter sentence options. Paste your text on the extension, and it will do the rest for you.
Rewriting your sentences to be unique will also improve your SEO rankings. Wordtune will help you keep your content on top of the SERP.
What Can Grammarly Do?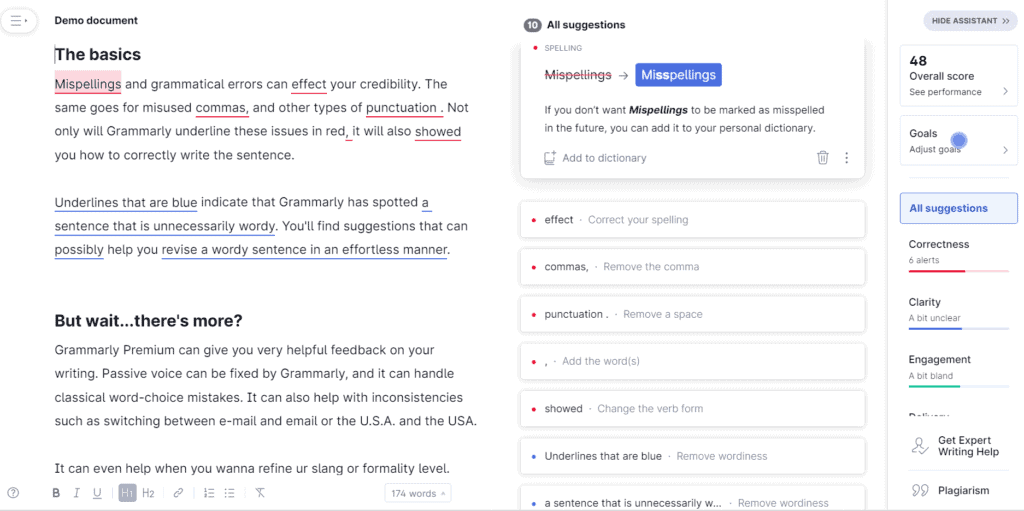 Grammarly is the most popular grammar-checking tool because of its powerful features. Let's look at the many things you can do with Grammarly.
Spelling, Grammar, and Punctuation Check
The most basic feature of Grammarly is its ability to correct punctuation, grammar, and spelling mistakes in your content. Whether the free or premium version, the platform gives you access to a range of tools for sentence correctness.
Unlike other grammar refinement programs, Grammarly is an excellent choice because of its contextual suggestions. For instance, it will spot misspellings in your articles if you incorrectly type "your" instead of "you're."
It also encourages you to use different punctuation marks correctly. Sometimes, a period is more suitable than an em dash to make your statement more concise. Grammarly won't fail to remind you of these things.
On the premium version, you get to receive extra features such as suggestions for:
Fluency.
Conciseness.
Clarity-focused rewrites.
Formatting.
Compelling vocabulary.
Lively sentence variety.
Confident writing.
Politeness.
Inclusive language.
Personal Dictionary
Grammarly's free version also has a personal dictionary, which is one of the handiest features of the editing tool. If the AI-powered writing tool keeps flagging a unique word as a misspelling, you can manually add it to your dictionary.
It's useful for fiction writers who use other-worldly character names and places. You can also use it to produce high-quality content for your brand names and other words.
Vocabulary Enhancement
Grammarly Premium offers vocabulary enhancement features aside from punctuation checking and spotting grammar errors. This functionality helps repair clarity issues like repetition, vagueness, and context-inappropriate word choice.
This excellent writing tool will help you use vivid synonyms that fit your sentence perfectly. Sometimes, automatic suggestions show up. But you can double-click a word to check for more engaging synonyms.
Plagiarism Checker
Grammarly Premium offers plagiarism detection features that check your content for plagiarism. It scans your work against billions of websites and academic articles to look for duplicate content.
This feature is essential for writers of blog content, academic article, and other documents that require originality. It's also helpful for making quality content and increasing your SEO rankings.
Weekly Progress Reports
One of the outstanding features of Grammarly is the weekly report, which is available on the free or premium version. The artificial intelligence lets you review your progress, how many words you checked, and the percentage of your unique words.
The weekly progress reports are also one of the advanced features that let you make grammar and tone adjustments. Over time, it can help you become a better writer if you know how to optimize these statistics.
Detailed Explanations
Grammarly doesn't only spot your spelling and grammatical errors. One of the extra features is explaining the writing issue and the reason behind the suggestion.
It goes hand in hand with the goal-setting feature, where you customize the suggestions according to different factors. These include the audience, formality, domain, and intent of your work.
For example, Grammarly may suggest a different version of your sentence and then explain it's because of the passive voice. With the help of the mini-lesson, you can improve your writing skills and avoid making the same mistake. It will also save you time proofreading.
The online editor also displays a content score. It will help you know the overall correctness, engagement, clarity, and delivery of your piece of content.
Multiple Integrations
Whether you're on Google Docs, Gmail, Word, or Slack, you can use Grammarly's reliable features without switching apps anymore. You can get the browser extension on Chrome, Safari, Firefox, and Microsoft Edge. You can also try the desktop app or Word plugin.
Grammarly is an excellent choice for writers who do not want to work between programs. You can receive real-time suggestions as you type your text without worries.
What Can Wordtune Do?
Wordtune is a rephrasing tool that helps you write more pleasing sentences. Let's look at what makes it different from other online writing tools.
Rewriting Suggestions
Wordtune's rewriting feature lets you find alternative methods to write your text. It's a must-have tool for freelance writers, content publishers, and bloggers who want to avoid plagiarism issues.
The rewriting suggestions are also one of the most advanced features of the program you can't find on Grammarly. Paste your text, and then the suggestions will appear. You can also highlight individual sentences one at a time.
Casual and Formal Tone
Wordtune's take on the tone detection feature is a rephraser for the formal or casual tone. These two tones are common genres you'll find in different types of writing, from blog posts to academic papers.
This key feature of the all-in-one copywriting tool ensures you relate to your audience's emotions, needs, and interests. The flexible tone rephrasing builds a connection between you to generate significant returns.
Shorten and Expand
The tool doesn't have lots of features. But it's valuable for professional content writers who need to shorten or expand their work.
It doesn't perform the usual detection of spelling and grammar issues. However, it saves the editing process time by creating shorter or lengthier versions of your text.
Chrome and Word Integration
Wordtune is available on Chrome and Word to help you produce AI-powered content. To install the browser extension, go to Chrome Store and download Wordtune. It will help you write more precise messages with better vocabulary choices.
To use it on Microsoft Word on Windows, open Word and select "Get Add-ins" from the Insert menu. Look for Wordtune and click Install.
Pros and Cons of Grammarly
Pros
Excellent spelling, grammar, and style editor.
Ensures proper sentence structure and tone detection.
Butter-like user experience.
Real-time corrections based on your genre.
Plagiarism checker.
Multiple integrations
Cons
Basic features for the free version.
No free trial for Grammarly Premium.
Pros and Cons of Wordtune
Pros
Cheap grammar checking tool.
Has a translator tool.
Change the tone of your writing.
Cons
Sometimes produces unclear sentences.
No plagiarism checker.
Only accessible through Chrome.
Ease of Use
Any editing tool needs to have a clean user interface for an improved workflow, and Grammarly is a champion! Unlike other comprehensive proofreaders, this tool helps you produce error-free content without having a hard time.
Using the web editor will help you quickly read the corrections and explanations on the right sidebar. Depending on your settings, it has brilliant tone detection features that help you sound more formal or casual.
Premium users can also receive advanced suggestions on redundancies, cliches, and tautologies. There's also a cutting-edge punctuation detector you can access.
But Grammarly is difficult to use as a Chrome extension. Some corrections do not appear on Google Docs, especially the suggestions for complex sentences. So I suggest using the web editor for your pieces of content.
Wordtune is also easy to use. This online writing assistant tool works on multiple platforms to help you produce human-like content. Like Grammarly, the whole website is easy to learn. All you have to do is input the text, and it will rephrase your entire sentence.
I noticed that this excellent rephrasing tool has a keyboard shortcut that lets you rewrite automatically. The buttons are also organized on top, so you don't have to figure out where to find which.
Pricing
Grammarly Free only offers minimal features of basic spelling, grammar, and punctuation corrections. The extended version provides several professional tools for writing style, tone, and purpose. You also have access to an excellent plagiarism tool to produce original text.
The Premium subscription offers a range of plans, including:
Monthly plan: $29.95.
Quarterly plan: $59.95 every three months.
Annual plan: $139 per year.
There's also a business plan for teams of three or more. It gives you access to the basic and advanced features plus amazing features for companies.
Some Grammarly Business features include a customizable style guide, brand tones, snippets, and more.
The cost is as follows:
3-9 seats: $180 per seat per year.
10-49 seats: $174 per seat per year.
50-149 seats: $150 per seat per year.
Wordtune offers fewer yet more affordable plans to help you create alternative sentences. The monthly plan costs $9.99, while the yearly plan is $119.88. Subscribing to the premium plan of this editor means you have access to unlimited rewrites.
The premium features are perfect for businesses and entrepreneurs who want to save time. Premium subscribers who work in groups can subscribe to Premium for Teams. But Wordtune recommends you email them for its pricing.
Overall, Wordtune is more affordable than Grammarly. But it has fewer pricing options.
So Which One is Better, Wordtune or Grammarly?
Both Wordtune and Grammarly are excellent at what they are designed for. Wordtune does a terrific job at rephrasing your statements, while Grammarly accurately corrects your spelling and syntax.
Most professional writers prioritize their spelling, grammar, and style. Therefore, Grammarly remains a champion. It's the only editing tool that can give you educational suggestions and genre-specific corrections for your writing.