Business owners, freelance writers, and students need grammar checkers to improve their written documents. Two writing tools that come to mind are LanguageTool and Grammarly.
This guide will give you a detailed comparison between LanguageTool vs. Grammarly. Find out how the features, pricing, and accuracy of these two grammar checkers differ.
What is Grammarly?
Grammarly is an online writing editor that checks the spelling and grammar of your documents. This application helps users improve their writing and communicate more effectively through real-time corrections of grammar and spelling errors.
What makes this grammar checker different from the rest is its ability to make the right impression on your readers. Grammarly fixes your sentence structure, tone, punctuation errors, and delivery to be more engaging.
I swear by it and use it literally every day. Between prepping my manuscripts for my editor and polishing my digital content for various websites, this program is a must-have tool.
The app features a personal dictionary, synonym suggestions, and more advanced tools to make your text more readable. You can even check your content for plagiarism on the premium plan.
All these elements work by Grammarly flagging the potential issues and creating more context-specific suggestions. If you have no idea why Grammarly is suggesting changes, you can read its detailed explanations between each recommendation.
You can accept or decline these suggestions with just one click. Grammarly is easy to use for all types of writers. The AI-powered application integrates with Google Docs, Gmail, Word, and other platforms for your convenience. 
What is LanguageTool?
LanguageTool is an open-source grammar checker for different word processors and major browsers that fixes your writing for style issues and grammar mistakes. It's a grammar software that offers a wide range of features for perfecting your paper.
Aside from grammar checking, the proofreading tool also makes advanced suggestions for punctuation mistakes. LanguageTool gives you synonyms for words by double-clicking on them. One essential feature is the personal dictionary, where you can register your own words.
Overall, LanguageTool is an excellent program for everyday, casual writing. Add-ons are available for MS Office, LibreOffice, Sublime Text, and Visual Studio Code. Or download the browser extension for a convenient service.
Features of Grammarly
Goal Setting
Probably one of my favorite features as an author. Grammarly offers genre-specific writing style checks through its goal-setting feature. It's one of the core features of this grammar application that makes it unique from the others.
Set the intent, emotion, audience, and domain of your writing so the suggestions will be relevant to these needs. Goal-setting also encourages Grammarly to conduct more accurate grammar checks based on every writing project's requirements.
Grammar and Spelling Check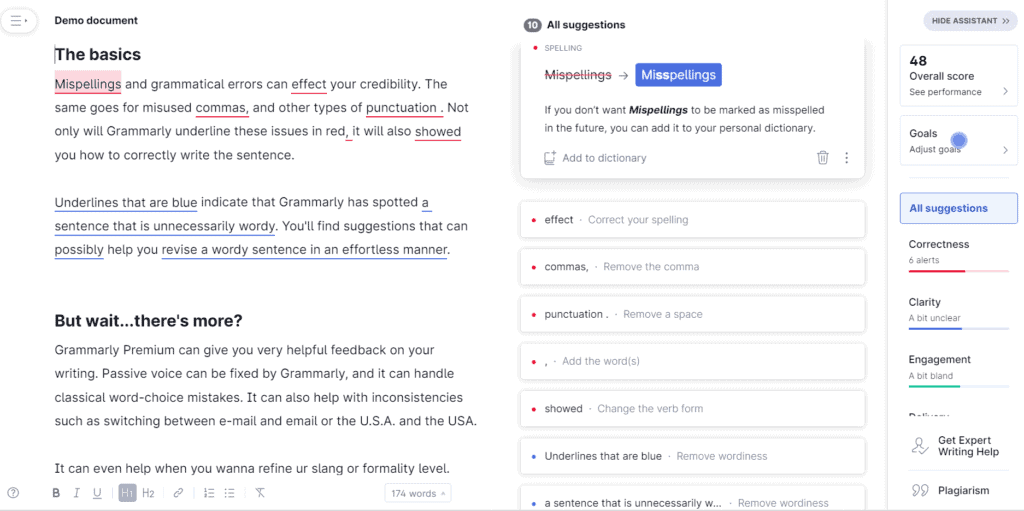 Grammarly is the most popular tool for conducting spelling and grammar checks because of its advanced suggestions. Aside from basic spelling and grammar mistakes, it also corrects advanced language mistakes like wordy sentences and the passive voice.
The grammar corrector offers clarity-focused sentence rewrites too. It shortens your sentences for readability without removing their meaning or intent. Grammarly Premium also provides suggestions for confident writing, politeness, and sentence variety.
Accept Grammarly's suggestions until the performance score on the upper right shows 100.
This accurate grammar checker uses AI technology to spot all advanced writing clarifications. You won't find these recommendations from other grammar checkers. And that's why Grammarly is everyone's favorite writing assistant.
Plagiarism Detector
One of the most special features of Grammarly Editor is its built-in plagiarism checker on the premium version. It compares your work against online and offline sources, looking for duplicate content or any form of unoriginal content.
Only a few grammar programs offer this type of plagiarism checker. But Grammarly requires a subscription so that users can access this feature.
Multiple Platform Availability
Grammarly gives basic grammar corrections across different platforms so you don't have to switch between apps. Although it has its own desktop app and web editor with a clean interface, the browser extension will save you more time proofreading.
Install the helpful content editor on Google Chrome, Safari, Firefox, and Microsoft Edge so you can use it on different websites. Grammarly will underline any writing error you make as you type on email, social media, or Google Docs.
Grammarly also has an MS Word add-on and a Grammarly Keyboard for mobile users.
Features of LanguageTool
Grammar and Spelling Check
LanguageTool's most basic features include its grammar and spell checker. It quickly spots issues in your text, including mistakes in spelling, style, grammar, and punctuations.
Although the writing assistant does not give advanced reports, the suggestions are highly accurate compared to other programs. Use the English grammar checker to proofread your academic and company documents for smooth writing.
LanguageTool also gets plus points for detecting overlooked writing errors like hyphenation. This feature will help you understand when to add a hyphen, em dash, or em dash to your words.
English Variations
Besides adhering to basic grammar rules, LanguageTool also offers detection of English language variations. Its ability to give you the correct spelling for British or American English promotes brilliant communication between the reader and writer.
It's one of the most advanced features for writers who write for different audiences. LanguageTool uses artificial intelligence technology to fix this writing style subject. For example, if you select American English, the tool will flag "theatre" as a misspelling.
Multiple Languages
LanguageTool stands out in its multilingual feature. It ensures efficient communications between the writer and the audience by conducting a comprehensive review of your writing. No matter the language, this grammar checker tool can perfect your writing.
Many grammar tools do not offer this type of language tool. LanguageTool detects grammar errors in over 20 languages, including Persian, Slovak, French, Japanese, Italian, and German language.
LanguageTool also spots some errors in spelling in different languages. Overall, its error detection in multiple languages is adequate. Use it as an everyday language checker for your casual writing.
Personal Dictionary
Besides LanguageTool's comprehensive features for grammar and spelling mistakes, it also has a customizable dictionary. You can add new words, made-up words, names, and other terms.
The next time you use these words, LanguageTool won't give basic writing suggestions for them as "misspellings." The grammar checker software excludes the word from possible spelling and grammar rules that might apply to the text.
Platform Availability
Users like LanguageTool because they can use it as a browser extension for Chrome, Firefox, Docs, Word, and LibreOffice. Proofread your work directly on these applications, so you don't have to switch between apps when editing.
LanguageTool's real-time suggestions work like Grammarly. It highlights incorrect phrases or words, which you can change by clicking on the recommendation.
Pros and Cons of Grammarly
Grammarly Pros
Most comprehensive and accurate in correcting grammar errors.
Automatically saves your work.
Provides weekly writing reports.
Offers plagiarism checker.
Has a mobile and desktop version.
Grammarly Cons
The application is still in its beta version.
No multilingual proofreader.
Expensive premium plans.
Pros and Cons of LanguageTool
LanguageTool Pros
Corrects basic spelling and grammatical errors.
Offers multiple browser extensions and add-ons.
Multiple language checks.
LanguageTool Cons
No plagiarism checker.
Not as accurate and comprehensive as Grammarly.
Low character limit.
Grammarly Pricing
Grammarly Premium offers monthly, quarterly, and annual subscriptions to its users:
Monthly plan: $30 per month.
Quarterly plan: $60 for three months (equal to $20/month).
Yearly plan: $144 for one year (equal to $12/month).
The cost of Grammarly Business depends on the number of users in your company.
3-9 users: $180 per seat annually or $15 per month.
10-49 seats: $174 per seat yearly or $14.50 per month.
50-149 seats: $150 per seat every year or $$12.50 per month.
LanguageTool Pricing
LanguageTool offers four payment intervals for its premium plans:
Monthly subscription: $9.95 per month.
Quarterly subscription: $19.50 for three months.
Yearly subscription: $29.95 for one year.
2-year subscription: $49.50 every two years.
Grammarly vs. LanguageTool: Free Version
Take a look at how Grammarly and LanguageTool compare against each other when it comes to their free versions.
Suggestions
Both Grammarly and LanguageTool provide similar suggestions for spelling and grammar on their free versions.
Grammarly Free helps you improve your grammar, spelling, and punctuation. But it won't offer consistency in spelling and punctuation. It also doesn't provide clarity-focused rewrites and vocabulary enhancements.
LanguageTool Free only offers basic suggestions for your grammar and style. But the free version won't make your text look more readable and professional.
Character Limit
LanguageTool's free version only checks up to 20,000 characters. This might be a dealbreaker if you're a novel writer or long-form content writer.
Try Grammarly if you want a free app that offers unlimited checks. This tool offers limitless grammar checks with no word or character limitations.
Multilingual Feature
LanguageTool offers basic free grammar checks in different languages, including French, Italian, and German. But you need to subscribe to the premium version to receive 5,000 more checks.
Grammarly Free doesn't conduct grammar checks in any language other than English. Even if you subscribe to the premium version, the grammar checker will not proofread content written in a foreign language.
LanguageTool vs. Grammarly Verdict
Writers need an accurate grammar checker to produce error-free content. Two online tools you may consult are LanguageTool and Grammarly.
Both writing assistants have their own pros and cons, but Grammarly is a more accurate and reliable tool you can try. It can correct more in-depth grammar mistakes like unclear sentences, wordiness, and improper tone.
But if you're looking for a grammar checker with multilingual support, download LanguageTool. It offers grammar checks for foreign languages at a more affordable price.