Running your work on a plagiarism checker to look for duplicate content is essential before publishing it online. Otherwise, you can get sued for intellectual fraud or theft.
I carefully selected the best plagiarism checker for students, professional writers, editors, and everyone. These online tools contain both free and paid applications.
What's the Best Paid Plagiarism Checker?
QueText, Scribbr, and Grammarly are my top three plagiarism checkers as they have proven to be accurate, reliable, and easy to use. Here are some features of the best plagiarism checkers.
Quetext
Starts at $9.99 per month
DeepSearch Database
Citation Assistant
Free Trial
Affordable
Plagiarism Percentage
Top Choice
Grammarly
Starts at $12.50 per month
Large Database
Grammar and Proofreading Reports
Compares To Various Published Sources
Originality Score
Readability Score
Scribbr
Starts at $19.95 per scan
Powered by Turnitin
Exclusive Content Databases
Compares Against Unpublished Docs
Citation Generator
Self-plagiarism Check
1. QueText
The first on the list of the best plagiarism checkers is QueText. While it does not have a grammar checker like Grammarly, QueText picks up more plagiarism on your writing than other tools.
Make your content more original as this platform checks against different academic sources and web pages. Try the free version on your five-page paper so you can check the document for plagiarism.
One downside in terms of the quality of matches is that it can't match each text to one source. It attributes several sentences to multiple sources, making your academic paper less credible. The process also takes more time, although the results are worth the wait.
QueText only uses two colors to highlight any plagiarized section: red and orange. Red indicates that the whole statement matches, while orange means some parts match.
The website has a built-in citation assistant that fixes your plagiarism through citations. It's not a popular application feature because it's not yet well-developed. Some generated citations are also inaccurate.
Features
DeepSearch Database.
Citation assistant.
Free trial before paying for a subscription.
Pricing
QueText has a free trial of 500 words or five pages. For QueText Pro, the starting price is $9.99 per month for 100,000 words, which is relatively affordable. This paid version also lets you upload your files instead of copy-pasting them.
Pros
More affordable than other paid applications.
Intuitive interface.
Excellent customer service.
Cons
Restricted word counts.
No grammar checker.
No mobile application.
Who It's Best For
QueText is the best plagiarism detection software for freelance writers, bloggers, and other types of web creators.
2. Scribbr
Scribbr's Plagiarism Checker is a partnership with Turnitin that has beaten almost all free and paid checkers on the internet. Compared to other platforms, this plagiarism checking tool detects 95% against the average of 21% across free software programs.
This plagiarism detecting platform also boasts consistency when providing full matches instead of partial ones. The whole passage is matched to allow you to correct the course and make it more original.
The best part about Scribbr is its clean report. The results are easy to download, highlighting the copied elements. Instead of making your ideas original, you also have the option to cite the source using Scribbr's free Citation Generator.
You may also try Scribbr's Self-Plagiarism Checker. It lets you upload your unpublished document and look for potential self-plagiarism. But you can't edit your text on the platform.
Features
Powered by the leading plagiarism checking software.
Access to exclusive content databases.
Compares your work against unpublished work.
Citation Generator.
Self-Plagiarism Checker.
Pricing
Scribbr requires a simple price of $19.95-$39.95 per plagiarism check. It's not subscription-based, so you won't waste money when the application is not in use. The pricing depends on the word count, so feel free to upload small and big documents.
Pros
Best for learners who write essays and papers.
Finds more plagiarism than other checkers.
Accurate plagiarism report.
Compares your work against published and unpublished publications,
Cons
Not ideal for SEO writers, copywriters, and business owners.
Who It's Best For
Use Scribbr as a plagiarism tool if you write critical or confidential documents for work.
3. Grammarly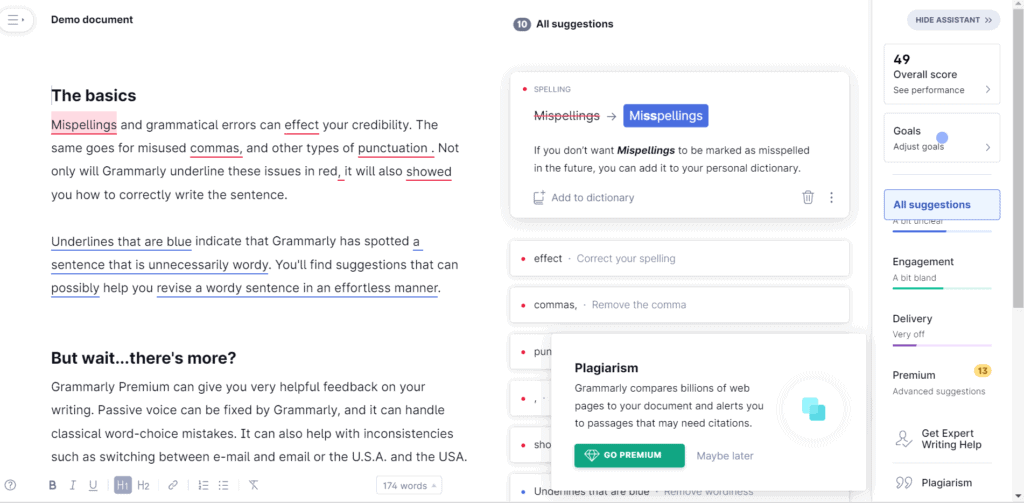 The Grammarly online Plagiarism Checker can detect several types of plagiarism to help you produce original content. Searching only takes a few minutes. Then, you will see several cases of intentional plagiarism, improper citations, and duplicate content on the page.
Grammarly's plagiarism tool is more straightforward than its grammar-checking tool. However, I had a hard time finding where I could access the plagiarism tool.
Only the Premium plan offers this Grammarly feature. It scans more quickly than Quetext and Scribbr, highlighting the improperly cited statements from the web. It's ideal for freelance writers, universities, and business owners.
It's available on iOS, Android, and desktop, keeping your whole document safe and secure. But Grammarly's integration with Google Docs is not available when using the online plagiarism tool. It's easiest to find the plagiarism tool in the cloud app that Grammarly offers.
Features
Large database.
Available with other proofreading reports like correctness and delivery.
Compares your work against various published sources.
Pricing
Grammarly's free version doesn't offer a plagiarism detector. But it provides monthly, quarterly, and annual subscriptions for the Premium version.
Monthly Subscription: $30 per month.
Quarterly Subscription: $60 per three months.
Annual Subscription: $144 per year.
The Business version of Grammarly also has a plagiarism feature for teams of three or more. It starts at $25 per member every month.
Pros
Also has a proofreading tool for a broader range of writing issues.
Fast and accurate plagiarism tool that uses a deep search.
Offers link to the plagiarized text.
Cons
Does not offer the best reports.
Not for longer documents.
Expensive for students and new writers.
Who It's Best For
Grammarly is the best tool for web content writers, business owners, and freelance editors.
4. ProWritingAid
ProWritingAid offers detailed reports of your writing issues aside from plagiarism at a low price. As a plagiarism checker tool, it loads quickly when scanning your file. Copy, then paste your text or upload a document.
Buy credits when running a plagiarism report rather than purchasing a subscription to your piece of writing. I am impressed by this tool's accuracy as it was able to spot both direct plagiarism and accidental plagiarism.
Once you're done conducting a plagiarism check, use ProWritingAid for grammar and spell checks. This online writing mentor also corrects different writing styles according to your need.
It reviews aspects like redundancies, overused words, sticky sentences, and readability. Whether you're crafting a post for your blog or even a book, this online tool has everything you need! It's also the reason some academic institutions prefer it over Grammarly.
Features
Its algorithm checks your work against online and offline databases.
Multiple payment options.
Avoids different types of plagiarism.
Pricing
ProWritingAid offers plagiarism checks through the following options:
$10 for ten reviews.
$40 for 100 reviews.
$120 for 500 reviews.
$200 for 1000 reviews.
You can also purchase the Premium Plus version for 60 plagiarism checks per year. It costs $24 per month or $89 per year.
Pros
Easy to use.
Reports other writing issues beyond plagiarism.
One of the most affordable plagiarism tools.
Cons
Editor is challenging to learn.
Usage limits compared to Grammarly
Who It's Best For
Use ProWritingAid if you're a fiction writer who aims for original, high-quality writing.
5. CopyScape
Copyscape is one of the most famous plagiarism detection software you will find. It's also one of the oldest plagiarism checkers that has been around since 2003. Simply enter the URL of your blog post or any other article on their site, and the matches will appear.
If your online content isn't published yet, paste it into the designated space. Copyscape can spot patchwork plagiarism, accidental plagiarism, and other forms of duplicate content.
Even though it doesn't display plagiarism scores and grammar errors, Copyscape connects to sitemaps. Use these advanced features to see if other sites are copying your online reviews and posts.
You can also connect Copyscape through an API tool. Unlike Grammarly and Scribbr, this simple yet effective tool allows you to configure notifications for your existing posts.
Features
Allows you to protect your site and search engine rankings.
Get notifications of who's stealing your content.
Batch search.
API
WordPress Integration.
Pricing
Copyscape also works on a credit basis or monthly subscription. Buy $4.95 worth of credits for a month or 3 cents for every scan.
Pros
Best for content-based sites.
Quickly scans plagiarism.
Affordable and easy to use.
Cons
Not for academic papers.
Not helpful for self-editing.
Impossible to save reports.
Who It's Best For
CopyScape is the best option for editors who check multiple articles from freelance writers.
6. Turnitin
Turnitin is a comprehensive plagiarism application that looks for unoriginal content at a university level. The anti-plagiarism subscription service is only available when the learner has to submit their academic writing to a teacher.
The company's sales materials state that each scanned work automatically goes to the teacher for checking. This software solution doesn't let you check your work. You won't have any idea about the instances of plagiarism and their sources.
Instead of catering to the student, it caters to the teacher who will score your work's originality. Turnitin determines your score comprehensively through a similarity index, plagiarism percentage, and a detailed report.
Do not use this online tool if you are a freelance writer, business owner, or casual writer. If you're a student required to use Turnitin, run your work on other apps before submitting it.
Features
Schoolwide accounts.
Helps students improve their writing skills.
Similarity index and plagiarism percentage.
Pricing
Turnitin is not available for sale to casual writers. But you can try it for free if your teacher or school uses it to grade your work.
Pros
Modern user interface.
Best for educational institutions.
Uses advanced algorithms to scan your work.
Cons
Doesn't let the student scan their work before submission.
Only available within the academic.
Who It's Best For
Turnitin is perfect for teachers who want to check if their students' works are original.
7. Quillbot
Quillbot is a fast-growing advanced writing assistant that's also a tool for plagiarism detection. Content writers have been enjoying the features of Quillbot because it has an accurate grammar checker and paraphrasing tool.
I tried pasting academic papers from different sources, and Quillbot instantly flagged them as plagiarized. There are also originality scores that display the portion of the matched text.
The software features a citation manager that will complete your anti-plagiarism kit. Paste a link to any source, and it will accurately generate a citation for you.
Quillbot isn't famous for its duplicate content checker. However, you can also make use of its paraphrasing tool. It rewrites a piece of content to make it easier for you to comprehend the text.
The online writing tool boasts many integrations, including Google Docs, Chrome extension, and its desktop version.
Features
Originality score with the number of similar words.
Citation manager.
Paraphrase and summarizer.
Pricing
Quillbot isn't the most suitable for content publishers and freelance writers because of its per-page payment. However, they still love it because of the affordable $20 fee per month for 20 pages. You can also pay $7.50 per 10 pages.
You can also try Quillbot's Premium version, including a paraphrase, summarizer, grammar rewrites, and a plagiarism checker.
$14.95 for the monthly subscription.
$59.99 for the 6-month subscription.
$79.95 for the annual plan.
Pros
Quick and easy to use for essays and blog posts.
Has a citation manager.
Cons
Inconvenient per-page billing method.
Few plugins and apps than other paid online tools.
Who It's Best For
Subscribe to Quillbot if you're a writer who needs help articulating your thoughts.
8. Whitesmoke
WhiteSmoke's plagiarism detector isn't necessarily its unique selling point. But this feature is best paired with an accurate grammar and style checker.
To conduct a plagiarism check on WhiteSmoke, start by pasting your content on the blank form. Click "Check Text" and wait for the software to load. WhiteSmoke spots copied content in your articles, websites, research pages, and blog posts.
The reliable service includes a translator, email template, and video tutorial. But the plagiarism detector, which pulls from 17 billion web pages, isn't entirely accurate. Some users report that the plagiarism tool doesn't work on the desktop app.
If you want a better experience using WhiteSmoke, the web-based platform has a friendlier interface. It determines the number of sentences that are unique and plagiarized. You'll also get links to the plagiarized sources.
Features
Determines the number of unique and plagiarized sentences.
Available on the desktop app and web platform.
Built-in grammar checker and translator.
Pricing
WhiteSmoke's plagiarism checker is available on the Essential, Premium, and Business Plan.
The Essential plan starts at $6.59 per month.
The Premium plan starts at $9.99 per month.
The Business plan starts at $17.95 per month.
Pros
Affordable.
Has several other features for writing.
Cons
Poor user interface.
The plagiarism checker doesn't work on the desktop application.
Who It's Best For
WhiteSmoke is best for freelance writers who want to improve their blog posts' readability, style, and originality.
9. Unicheck
If you're looking for a plagiarism tool that fully matches copied passages with their sources, Unicheck is a perfect choice. It doesn't detect all copied passages because of its limited database. But the report compares a piece of text to its single source decisively.
Another disadvantage of Unicheck is its lack of readability. It only highlights the copied text in the same color. No color indicates full and partial plagiarism.
Like any other plagiarism tool, Unicheck promises to store your document securely. It doesn't delete your information, but the company guarantees they will not sell or share your content. You can access the live chat support and help center for some guides.
Features
Catches sources from the internet and your library.
Determines the percentage of matches and the number of sources.
Pricing
Unicheck's prices are pretty reasonable. After the free trial of only 200 words, you need to pay $5 for 20 pages, $10 for 50, and $15 for 100. It's unlikely you can run a plagiarism check on the free trial because of the minimal word count. But it's worth a shot!
Pros
Identifies the correct sources of your writing.
Excellent customer service because of the live support.
Ensures the security of your work.
Cons
Free trial is almost useless.
No color-coding system for the different sources.
Hard to identify the source.
Who It's Best For
UniCheck is the perfect plagiarism tool for writers who want a quick plagiarism check for their short documents.
10. PlagScan
Last on the list is PlagScan, a relatively affordable plagiarism tool that prevents you from committing content theft. The advanced plagiarism software detects traces of plagiarism in only one minute, presenting a complete report with links to other content.
Despite the low price of PlagScan, we can still call it an accurate plagiarism scanner. Aside from copied content, it also detects accidental plagiarism or content you didn't mean to copy.
Signing up for an account is free on the web browser. You don't need to input your card details during the trial period yet. The free credits are also enough to check a whole document and future ones. It can check up to 2,000 words on your first try.
Features
Percentage score of your plagiarized content.
Color-coded highlights.
Free trial.
Pricing
PlagScan initially offers 20 free credits for first-time users. Once you've used that all up, you need to pay a small amount of $12 for 100 credits.
Pros
Easy sign-up and use.
Accurate plagiarism checker.
Supports different document formats.
Cons
No mobile app integration.
Who It's Best For
PlagScan is best for casual or everyday writers who want to produce more original works.
Best Free Plagiarism Checkers
11. Duplichecker
Duplichecker is your top choice when looking for free plagiarism tools because it doesn't save nor use your uploaded documents. It also has a "Paraphrasing Tool" that can automatically transform your text with potential plagiarism.
Its plagiarism services are ideal if you want a quick search of duplicate content for your piece of writing. However, Duplichecker doesn't have a vast database, so you might receive unreliable results.
The algorithms aren't as complex as Grammarly's and Scribbr's, making them unideal for professional writers. Duplichecker is also full of ads because of its free platform. You will see an annoying "Make it unique" button on the report advertising their other tool.
Your text stays readable as the plagiarized text appears in highlight. Click on each part to see the source that it matches. Once you have checked your content for plagiarism, you can paste it back to your document with the original formatting.
Features
Includes Statistics of your work.
Shows the percentage of the text plagiarized.
Let's you "Make it Unique" through its rewriting tool.
Pros
Lets you scan 1000 words per check for free.
Doesn't keep your uploaded documents.
User0friendly plagiarism reports.
Cons
Distracting ads.
Only highlights plagiarized text in one color.
Low levels of plagiarism.
12. Check Plagiarism
Check Plagiarism is an online tool that provides slightly more comprehensive reports than other free websites. Surprisingly, the plagiarism analysis picks up more heavily edited texts than unedited, copy-pasted ones.
The plagiarism detector possesses weak content databases because it cannot identify the primary source. It links copied passages to several partial matches, making it difficult to cite your source.
If you're a freelance writer who writes blog articles, this tool will not be helpful for your SEO rankings. The results show obvious false positives, including short phrases that are popular enough to be "plagiarized."
On the bright side, Check Plagiarism is primarily free. You can check up to 5,000 words on this software despite the abundance of bugs and unhelpful reports.
Check Plagiarism is also unclear regarding its upload limit. But what we know is that you can run a certain number of sentences every month. Based on experience, it can make reports of approximately 30,000 words every month.
This plagiarism detection tool also instantly deletes your documents. It doesn't save or store any of your data in its internal database, so feel free to check critical works on the app.
Features
Detailed plagiarism report.
Checks each sentence if it's "unique" or "plagiarized."
"Make it Unique" feature.
Pros
Free for most purposes.
Detects more plagiarized copies than other free tools.
Has a 5000-word limit per upload.
Does not keep your documents in their database.
Cons
Confusing reports.
Poor formatting in the report.
Has a lot of bugs.
13. Writer.Com
Writer.Com is one of the newest plagiarism checker software that offers smooth scanning. It guarantees professional writers extra security for their content pieces.
Whether you're writing business or academic documents, this online plagiarism tool spots accidental and intentional plagiarism for you to verify. If Writer.Com finds any copied sections, it instantly highlights the whole text and gives you the URL of the source.
Writer.Com also has a percentage score in the upper right corner that resembles Grammarly's. However, it's not the most accurate tool. I tried running a copied piece on the application, and it only detected one instance of plagiarism.
The online writing editor also supports the AP style guide. Use the collaborative feature to work with other team members in checking the clarity, inclusivity, and style of your document.
Features
Collaborative features.
Supports the AP style guide.
Checks for spelling, grammar, and style beyond plagiarism.
Pros
Supports the AP style guide.
Similar interface as Grammarly.
Cons
New to the market.
Not accurate.
Not suitable for fiction writers and business owners.
14. PaperRater
PaperRater is a plagiarism detection tool that works as an add-on to analyze your entire content. Enable this feature on your web page checkup for the online tool to work.
PaperRater works more slowly than Duplichecker and other free checkers because it consults a more extensive database. This plagiarism detector tool is more accurate and very much worth the wait. But I wouldn't consider it equal to Scribbr and Grammarly.
PaperRater also shows results for spelling mistakes, readability, grammar, and diction of your text.
Features
File upload and unlimited total submissions.
Automated scoring.
Spelling and grammar checker.
Pros
Accurate for a free plagiarism checker.
Includes other writing tools aside from the plagiarism tool.
Easy to use add-on.
Cons
15. Pre Post SEO
Pre Post SEO includes a free plagiarism tool that lets you scan up to 1000 words per search. If you're analyzing a longer document, you can cut the text into two or three to conduct the plagiarism search.
But the downside to its free feature is the ad-heavy plagiarism checker website which makes the experience annoying. Fortunately, a paid version removes the ads and word count limit.
Pre Post SEO can differentiate between complete plagiarism and paraphrased content through color-coded highlights. But it only finds partial matches most of the time. It rarely finds full matches of the texts despite the unedited statements.
Features
Percentage of unique and plagiarized content.
Shows links to the original source.
Pros
Free search for every 1000 words.
Color-coded distinction for verbatim and paraphrased plagiarism.
Occasional full matches.
Cons
Low level of plagiarism detection.
Ad-heavy design.
Poor readability of reports.
16. Plagiarisma
Plagiarisma is perhaps the most straightforward and convenient plagiarism checker tool you can try on the internet. This free website lets you paste your content into the blank form and scan for duplicate text.
It's perfect for students, bloggers, and casual writers who are curious about the originality of their text. Despite the clunkiness of the page, the comprehensive site claims to support more than 190 languages.
Simply paste your text on the blank space or enter a URL you want to check. You also can load a file from your Google Drive or upload one. Click "Check Duplicate Content" and wait a few minutes.
Plagiarisma isn't a reliable plagiarism tool. Try running the exact text twice, and it might show you different results. It also doesn't spot paraphrased content and patch written text.
Features
Supports over 190 languages.
Option to set percentage of rewrite.
Pros
Multiple ways to scan your document.
Completely free.
Shows results quickly.
Cons
Bad webpage design.
Unreliable plagiarism results.
17. Plagium
Plagium is an online plagiarism checker tool that has an average performance. It's slightly more pleasing to the eyes than Plagiarisma, letting you enter your text right away on the search box. Plagium checks for plagiarism to see if some statements require the proper citation.
The plagiarism software is not the best tool for academics because it only scans web content. There are also no file formats and extra functionalities.
Features
Simple plagiarism checker.
Pros
Easy to use for everyday scanning.
Entirely free for every 1000 words.
Cons
Only searches for plagiarized web content.
Why Should I Use a Plagiarism Checker?
Plagiarism checker tools are an effective method to review your work for duplicate content or lack of citations. Here are some reasons you should download an online plagiarism tool on your device.
They Offer a Wide Range of Resources
The emergence of plagiarism checkers means you don't need to search every line of your work on Google anymore. Copy-paste everything in the search box or upload a document, then it will provide the references of duplicate content.
Plagiarism checkers also keep more extensive databases or cross-reference repositories. Choose a platform that scans your work against online and offline content, including inaccessible books and articles.
It's also possible for some plagiarism scanners to analyze your work against other users' works. They will compare your work with past submissions, which a simple Google search cannot do.
Saves More Time
Instead of spending the whole day paraphrasing every source you use, why not try an online plagiarism detector? Even the most brilliant writers can experience difficulty paraphrasing because it takes a lot of skills and practice.
A plagiarism tool highlights only the parts that require citations and paraphrasing. It reveals any material from your work that resembles other authors'.
Once you have located the plagiarized statements in your piece of writing, you'll save more time fixing them. Don't forget to use the correct citation, reference list, and direct quotation method. Then, leave the rest of the document alone.
Provides Detailed Plagiarism Report
Only an online plagiarism tool can give you specific data on your work. It checks for plagiarism and then offers an array of statistics, scores, and written reports. Some plagiarism-checking software uses different colors to highlight full and partial plagiarism.
Grammarly and QueText also provide originality scores or percentages of plagiarized content. These features are helpful for university students who need to abide by a certain percentage of plagiarism.
If the percentage of plagiarized content is high, make a few tweaks to your writing and try rerunning it. Keep doing this until your originality score is high.
But the best part of these detailed reports is their ability to link your plagiarized work to the source. You can analyze the PDF file, article, or webpage to see if it's really plagiarized or a mere false positive.
Helps You Practice Intellectual Honesty
A plagiarism prevention software will prove that you are ethical in your research or writing job. It provides all the necessary evidence that your tutor or adviser needs to make sure you are being honest about your work.
Every student and professional writer understands that plagiarism is a form of theft. Using other people's words and pretending it's yours is against the law. But despite this common knowledge, many students still deliberately cheat.
They intentionally take the result of others' hard work without paying or asking for permission. Then, they gain credit for themselves even if they have learned nothing from their work.
There may be some cases where you don't mean to be dishonest. Accidental plagiarism happens when you fail to cite your source or when you misquote the source. It also happens if you unintentionally paraphrase a source.
However, accidental plagiarism is no excuse. That's why online tools for plagiarism detection exist to assist you.
How to Choose the Best Plagiarism Checker?
Not all plagiarism checkers are equal. Consider these factors when picking a suitable plagiarism checker.
Wide Coverage
The accuracy of your plagiarism checker depends on the coverage of platforms where they base your work. This factor deals with the amount of online and offline content they store for comparison and how they compare your work.
A reliable plagiarism checker should be able to detect all similar texts on your work, whether it's full or partial. Grammarly, Scribbr, and QueText can see more than half of any similar text you paste.
Don't be afraid to access the free trial of these platforms to get a live demo. Once you pay for your subscription, it might be hard to cancel.
Test the accuracy of your software by running a heavily-plagiarized text on it. See if it can detect every plagiarized sentence spot-on and if it links to the original source.
Citations
Citing sources is one good way to avoid unintentional plagiarism because you're rightfully crediting the idea's owner. Only a few plagiarism tools offer a citation generator or citation assistant that caters to your preferred style.
It should also detect patchworked sentences, which occur when you take different pieces of several sources without citing them. Your online tool must also see plagiarized work from offline sources, then give you the correct source.
Customer Service
The best plagiarism checker offers reliable email or chat support for your technical concerns. Ideally, they must be available 24 hours a day and seven days a week. They must also be reachable on different social networking sites for faster communication.
Budget
A free plagiarism checker might be tempting for students who have to review their work before submitting it. But most of these platforms have smaller resource repositories and, therefore, lower accuracy.
Most free plagiarism checkers also have word and document limits. You're also sacrificing the privacy of your work and some formatting. I recommend saving up and investing in a paid software that has more features and is more accurate.
Take advantage of the free trial to avoid wasting your money on a tool that doesn't suit your needs.
Paid plagiarism checkers are usually available in several plans. For instance, Grammarly offers monthly, quarterly, and annual subscriptions.
Privacy Policies
Most free plagiarism checkers are not compliant with privacy policies. They keep your documents without your permission for different reasons. Some might sell your content for their profit.
Choose a plagiarism checker which either stores your files securely or deletes your work right away. A secure platform must also handle secure connections while running a test on the site.
Do Plagiarism Checkers Steal Your Work?
There is no guarantee if the plagiarism checker you're using sells or copies your work. The best way to find out is to check the site's privacy policy.
For example, Grammarly ensures that the employees do not monitor or view your content. However, they have the right to view it after confirmation if it violates the Terms of Service. The company also has a human proofreader you can hire who views your work.
Scribbr ensures that their employees have taken the pledge of secrecy and signed a statement that prohibits the publication of your work. They also have the responsibility to delete your files and manage secure connections.
If you want to be guaranteed that your work is safe, go for paid academic plagiarism software like Grammarly and Scribbr. Turnitin and Quetext are also excellent options with detailed privacy policies.
In some cases, a plagiarism tool may not steal your content but keep a copy of it. They store your work to show a similarity index if anyone plagiarizes your work. Try a plagiarism tool that instantly deletes your work after scanning it if this setting doesn't feel right to you.
Choose the Best Plagiarism Checker for Yourself.
Plagiarism is a grave offense at school and work as it involves using someone's content without permission. It can also include reusing your old work and submitting it as a new one.
There are several free plagiarism checkers you can try for your documents. But paid plagiarism checkers like QueText, Scribbr, and Grammarly offer more accuracy and security. Look for one with more features, comprehensive coverage, and more detailed reports.