Commas are probably one of the most confusing punctuation marks to use, and even I struggle to find ways to help my students determine where they belong.
One of the most commonly asked questions I hear surrounds whether to place a comma before or after the word "and." Unfortunately, the answer is not quick or simple. However, the comma rules concerning the word "and" is not difficult to understand.
I'm going to start simple and explain how the word "and" is used and then provide rules on punctuation surrounding comma usage so you can understand where they belong together. I've also provided plenty of examples below.
Common Coordinating Conjunctions and Compound Sentences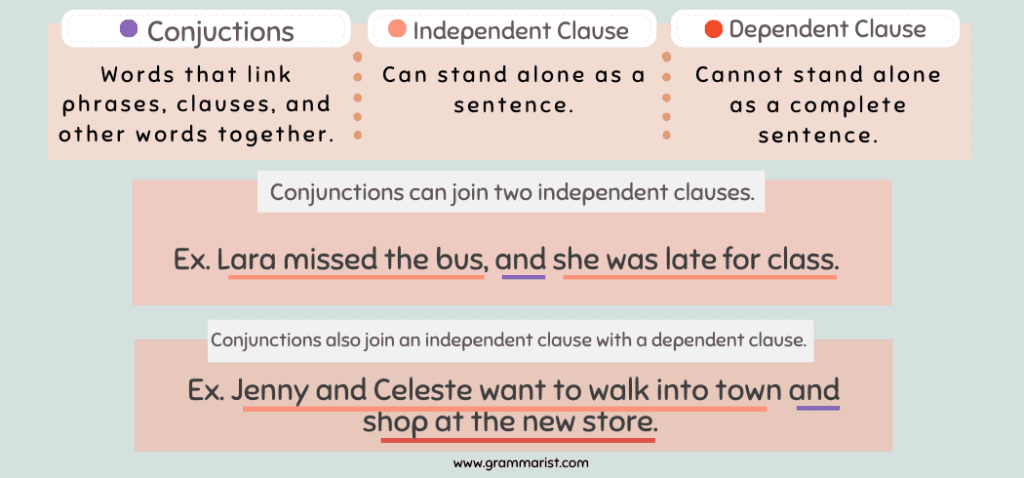 Conjunctions are words that link phrases, clauses, and other words together. They allow you to form compound-complex sentences to enhance the flow of your writing and speech.
Coordinating conjunctions include the words for, and, nor, but, or, yet, and so. The guide to comma usage in relation to conjunction use are the same for all of them, but the word "and" is more used than any other choice.
Conjunctions can join two independent clauses or clauses that could work as stand-alone sentences.
For example, the following two independent clauses:
Lara missed the bus. She was late for class.
Becomes
Lara missed the bus, and she was late for class.
Conjunctions also join an independent clause with a dependent clause or clause that cannot stand alone as a complete sentence.
For example:
Lara needs to start getting to class on time and make sure her homework is complete.
Rules of Comma Usage
There are six basic rules of comma use, but I find it is much easier to teach each rule independently of one another with plenty of examples. Such is the case with commas and conjunctions.
Using "And" to Join Two Independent Clauses: Comma BEFORE "And"
When "and" joins together two independent clauses, a comma needs to be placed before the "and." Independent clauses are complete sentences, but their conjoining makes a complex-compound sentence. The comma works to indicate this use.
For example:
I hate having to get up early for work, and getting chores done at that time of the morning is exhausting.
It hasn't rained in our town or the surrounding areas, and the lack of rain is starting to make everyone very anxious.
I'm so glad the end of the week is nearing, and I can't wait until I can sleep in this weekend.
Using "And" with a Dependent Clause: No Comma
If you are joining together an independent clause with a dependent clause, you do not use a comma.
For example:
Jenny and Celeste want to walk into town and shop at the new store.
Wyatt wanted to study Marine Biology and go to a summer camp for more experience.
Sarah got in big trouble at school for fighting and was suspended for ten days.
Using "And" with Short Independent Clauses: No Comma
Even though they are technically independent, it is acceptable to avoid the comma for shorter sentences.
For example:
Emmett likes trains and Emily likes horses.
Mary likes math and John likes writing.
Javier likes football and Mark likes lacrosse.
Using "And" with List Items:
Depending on how many items you have to list determines whether you use commas in lists with the "and." There are also multiple ways to approach whether you use a comma or not, which can cause quite a bit of confusion.
Take a look at the examples below to determine which approach works best for you.
Two Items: No Comma
When listing two items, you do not use a comma before the "and."
For example:
I need to run to the store for milk and butter.
She couldn't decide between art and choir.
He played in the band and played football.
Three or More Items: Serial Comma BEFORE "And"
The use of a comma before the word "and" when listing three or more items has been a topic of hot debate for many years. This quirk of comma usage is called a serial comma – a comma used in a series of items. It is also called the Oxford comma.
The Oxford comma's rules state that a comma belongs between the last two items in a series of three or more items to avoid ambiguity. The serial comma controversy is addressed in the the AP Style Guide stating the Oxford comma is grammatically incorrect. But, linguists everywhere will agree it is a grammatical option.
In fact, there has been a lawsuit about a job description that offered two different interpretations of an exception rule: in this case, whether overtime was owed. The judge ruled an Oxford comma was required to include the last item in the list concerning exception, but since it was not used, the item was not part of the list, and overtime was indeed owed.
I also teach the Oxford comma in order to ensure clarity and avoid confusion. Without it, some pretty amusing situations can occur.
For example:
Rachel finds inspiration in cooking, her dog and family.
We went to the concert with neighborhood friends, Grandma and Grandpa.
The first sentence sounds like Rachel cooks her dog and her family. In the second sentence, it sounds like the neighborhood friends are named grandma and grandpa.
Instead of accidentally creating this confusion, simply use an Oxford comma to create clarity.
For example:
Rachel finds inspiration in cooking, her dog, and her family.
We went to the concert with neighborhood friends, Grandma, and Grandpa.
When to Use Commas AFTER "And"
A comma is almost never used after the word "and." However, there are a few exceptions. In general, do not place a comma after "and" unless the following is true:
"And" is Used to Introduce a Parenthetical Expression
A parenthetical expression is a non-essential phrase that is offset from the main sentence to add detail or information.
For example:
I have to drive to Texas every two weeks for a doctor's appointment, and, if I'm lucky, I have extra time to do a little shopping.
"And" is Used in a Line of Dialog
Written dialog may require a comma following an "and" depending on the style and tone the author is trying to create with a character.
For example:
"And," Michael dictated, "you have to be up two hours before daybreak if you want to get there on time."
Let's Review
A comma is almost never used after the word "and," barring a few exceptions, but it is commonly used before when you combine two complete sentences into a compound sentence or when listing more than two items.
It is important to use commas properly to avoid overuse and help ensure writing clarity. Like I tell my students, when you look at one grammar rule at a time and practice its application, you will almost always remember its use.